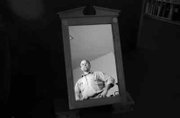 DALLAS -- A furniture award is good reflection on Roger Shinn.
And his mirror.
Shinn works for Westview Products in Dallas and designed a "Federal Mirror." The piece won a Best Accessory Award at an unfinished furniture show in Denver.
Not bad, considering Westview Products is not generally known for mirrors.
The company started out designing, building and selling solariums and sunrooms.
About eight years ago, Westview ventured into the unfinished furniture market.
Westview started with five items in its unfinished furniture inventory. Now it has more than 100.
Including the mirror.
Shinn was surprised when it won an award.
"We weren't expecting it at all," Shinn said.
"I think they probably just liked the design and style. It is kind of unique to the industry. It's not something everybody else is building."
The mirror is made in a classic, colonial style. Hence, the name "federal."
The Federal Mirror stands about three feet tall and features a large mirror that can be tilted. There are drawers along the base on both the left and right sides.
"We just came across the idea and decided to try it," Shinn said.
"It's like something you might see in the 1700s or 1800s."