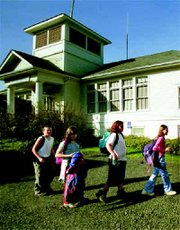 PEDEE -- The Pedee community has sent its children to learn at the same site since since the Civil War. The current school building has stood since 1927.
Yet Pedee School remains on the forefront of education in the state -- as a charter school.
Oregon's first charter schools opened in 1999, after Senate Bill 100 became law.
Charter schools are public schools with a contract, or charter, with an existing school district. Pedee, a former Dallas elementary, has a charter with that district.
Charter schools may not select students or charge tuition the way private schools can. They do allow staff more flexibility in what to teach and how to teach it.
Most Pedee students attended the school last year, before it became a charter school. Pedee has now added a sixth grade. Last year, the school only offered grades four and five.
Linda Pederson has two daughters at Pedee School, Michelle and Rebecca. She likes the charter school, but she liked Pedee when her older children went there as well.
Pederson appreciates sending her children to a smaller school. "Children are really able to develop self esteem and develop who they are," she said.
"Teachers and other kids know them well enough to know who they are."
The whole community takes pride in the school, Pederson said. "You would go a long ways before you'd have such a large percentage of parents and community members involved," she said.
Juandeane Skidmore lives near Pedee School. She coaches reading at the school two days a week.
"This community supports the school wholeheartedly, even though they have nothing personally to gain," Skidmore said.
"It brings together grandparents, parents, and neighbors like us who don't have any kids at the school."
It also brings students back.
Alumni reunions still turn out large numbers. Former students keep strong ties to the school from Alaska to Arizona, said Pedee board president Fred Weisensee.
Weisensee himself went to Pedee School as a child. Since then, views on education have come around, he said, showing rural schools in a positive light.
"There are some beneficial things about having more than one grade in a room and smaller classroom sizes," Weisensee said.
Pedee School helps form a local identity, said John Finkbeiner, the school's executive director. "The love for the school, the nostalgia of an old country school, having it be a center for the community is extremely strong."
Finkbeiner found the depth of that feeling at Pedee's annual pie auction, a parent-teacher club fund-raiser. The school raised around $2200 selling pies and homemade crafts.
"People came out of the woodwork," he said. "I didn't know that many people lived in the hills out there."
Finkbeiner started working at Pedee Feb. 4, after retiring from a consulting job on the East Coast. He had taught business at Central High School before that.
Finkbeiner became Pedee's fourth executive director -- counting one interim director -- since the school opened last fall. That number caused some concern for Dallas Superintendent Dave Novotney.
But Novotney expressed confidence that Finkbeiner will address the important issues at Pedee.
Dallas School District officials have financial responsibility for Pedee, Weisensee said. The district provides transportation, special education, and counseling services.
So far, Pedee has come in under budget, Novotney said.
He thinks the school is on the right track. "From an educational standpoint, I'd say they're doing an excellent job," he said.
In the annual state assessment tests, Pedee students beat the state average in reading, writing and math.
The school will keep ahead, Finkbeiner said, with new technology. A new laboratory with 15 wireless iBook computers will allow Pedee students to use programs like PowerPoint. "The goal is to get teachers well-trained to make that technology a key part of the core curriculum," Finkbeiner said.