Wednesday, April 16, 2003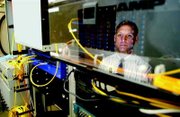 POLK COUNTY -- It isn't much to look at.
In fact, there's little visible evidence the system known as MI-net actually exists in the communities of Monmouth and Independence.
About all one can see at this point is a little rectangular gray metallic access port high atop a Monmouth telephone pole and a wire connecting to the office of attorney Joe Penna.
The heart of the new fiber optic system is tucked away in a closet-like room at the back of the Monmouth City Shops building.
It's just a few yards of cable and a handful of softly whirring machines that could double for high-end VCRs.
But MI-net provides high-speed broadband services access that's a quantum leap ahead of anything previously available. In the years to come, it also could impact the lives of local residents in ways unimaginable at present.
"For both cities, the primary reason we've done this is economic development," said Monmouth City Manager Jeff Hecksel.
"Two, we want to help people have access to services they don't have now. In the case of Monmouth, we're hoping it helps the electrical utility as well. In the long-term, we might see assorted additional benefits.
"It could get into anything you've read about being done over the Internet -- in terms of voice services, data services and video services. For TV, a customer might be able to pick Charter Communications or a second company or maybe a third company. By creating open access, other providers can choose to provide services in the marketplace. Then people will have a choice when they pick that service."
What makes all of this possible is the Northwest Open Access Network, known NoaNet.
NoaNet is a nonprofit corporation that lease fiber optic cables, primarily from the Bonneville Power Administration, to provide high quality broadband services to rural areas and utilities.
Together, NoaNet Oregon and NoaNet Washington have more than 2,400 miles of cable in the Pacific Northwest.
Monmouth and Independence first had to tap into the nearest NoaNet line, which runs along Interstate 5.
The cities ran a cable across the Independence bridge, eventually hooking up with the NoaNet line near Ankeny Hill south of Salem.
Each city has a "loop" that originates from the Monmouth City Shops building. The two loops are designed to go through each community's main business area.
Only people or businesses that happen to be located along the "loop" are able to directly link up to MI-net.
But those who are not located on or near the loop still can access MI-net through a service provided by Ash Creek Wireless.
"I'm buying bandwidth from MI-net and redistributing it, selling it retail to residences and small business in Polk County," said Ash Creek's John Conley.
"It's like ATT broadband, but it's wireless. It's just for somebody that wants higher-speed internet capabilities and doesn't have any other option.
"I think the big benefit of MI-net is going to be bringing technology to a smaller community. Several people who have moved away from urban areas like Salem have called me wanting service. They still want the conveniences that high-speed internet gives them."
Currently, most people are using a standard dial-up modem that can deliver from 28 to 56 kilobits per second. MI-net can deliver up to 1,544 kilobits per second. Ash Creek Wireless can provide service from 256 kilobits per second to around 1,000 kilobits per second.
Hecksel said the project thus far has cost an estimated $900,000. Extending the system throughout the rest of Monmouth and Independence would be expensive.
Independence City Manager Greg Ellis estimates that could cost, "two or three million bucks or more."
"It just depends on how it's accepted by the business community," Ellis said about the possible extension of the system.
"It's just been up a couple of weeks, and we're just getting into that. We're hoping it will be well-accepted. We know there's a need. We think it's going to do real well, but it's hard to say. We might do selected neighborhoods close to the backbone.
"For us, it will make any research we do a lot easier, and we do a lot of research. We have building inspectors trying to load building plans and stuff like that all the time.
"It takes forever. Plus, all the different governmental agencies will be hooked up -- the police, the library, City Hall. When we do that, we just just shoot documents back and forth.
"It's going to save a lot of gas and a lot of time."