Wednesday, August 6, 2003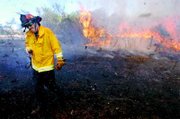 DALLAS -- A teenager with a model rocket started a grass fire July 31 that threatened Oakdale Heights Elementary School and several nearby homes.
Dallas firefighters responded around 2 p.m. A second alarm sounded shortly after the first units arrived. A total of six engines, three tenders, one ambulance, one duty vehicle and 33 firefighters battle the fire.
Firefighters confined the first to five acres. There was no damage to the school or surrounding homes.
The teenager, a student at Dallas High, was working on a science project.
He fired a small rocket from which the primer caps fell to the ground. They ignited the dry grass. Wearing only sandals, the student was unable to stomp the fire out.
He ran home and called 911.
Mutual aid was provided to Dallas by Sheridan Fire District and Polk County Fire District No. 1.
Firefighters remained on scene until 4:15 p.m., extinguishing all hot spots.