Wednesday, August 27, 2003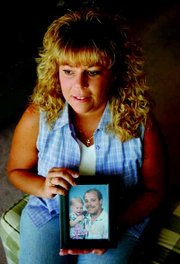 EDITOR'S NOTE: Amber Garvey and Michele Bartruff share more than a church.
They recently discovered they both both saved loved ones by donating kidneys. Their stories are unique but also strikingly similar.
DALLAS -- Michele Bartuff has no easy task.
She runs a daycare out of her own home while taking care of her own children.
Bartruff also recently donated one of her kidneys to one of her twin brothers, Darryl Connella.
She met Amber Garvey, another kidney donor, through the Valley Life Center in Dallas.
"The experience kind of bonded us. We both had the same experience," Bartruff said.
"We both feel like we were the fortunate ones."
Donating a kidney was not as bad as it sounds, Bartruff said. "It was a fun and interesting thing to go through -- from the tests to the surgery."
She didn't see her brother in the hospital.
"They don't give you the same room. They know that family will walk to see each other."
Within hours, she got up and walked to see her brother. He was in critical care in the floor above her.
Before Bartruff donated her kidney, Connella endured dialysis three times a week.
He was diabetic from an early age. Eventually, his kidneys began to fail. Connella knew this would happen. He always thought he could rely on a twin brother for any "spare parts."
However, his brother suffered after a near-fatal injury three years ago. After going through an examination, physicians rejected him as a donor. A search began.
Bartruff became the next choice. The blood work began. Within two weeks, the blood work was completed. The surgery proceeded.
"Matching 100 percent means less medication and a better outcome," Bartruff said. "It also means going off the anti-rejection medications sooner."
The surgery was a success. "The kidney worked on the table immediately. They called it a textbook transplant."
The recovery is tremendous, she said.
Connella now has three kidneys. Bartruff says he immediately felt great and went to work within a week. "It is exciting to hear and know that you were able to give those things."
Bartruff is glad she could help.
"It is no different than any other abdominal surgery. If I had another kidney to give I would do it again. It is such an easy thing to do."