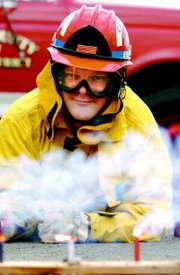 INDEPENDENCE -- A stick-and-a-half of dynamite is a powerful force.
Especially when the lit fuse travels at a rate of 60 feet a second.
On the Fourth of July, that is what lead pyrotechnician Keith Aldrich has to deal with every time one of those beautiful starbusts of color fill the sky.
Aldrich has been the pyrotechnician now for Western Days for over 20 years. The fireworks that are purchased are done so through a wholesaler and are bought and planned out as early as January.
To become the lead pyrotechnician Aldrich first had to become certified. To do this he had to apprentice a minimum of three shows -- each one performing a different task.
The certification process takes a different amount of time for each person, Aldrich said. That is because you can do it at your own pace.
Aldrich had done fireworks shows for 10 of the 20 years uncertified. It was only 10 years ago that the State of Oregon began requiring certification.
"It's not safe for our crew and not safe for the audience."
Originally Aldrich began doing fireworks when he joined the fire department. "It was community service."
"Our shells are completely preloaded now. For a long time we were preloading shells."
One time we put a 3-inch shell into a 4-inch mortar. It put a big hole into the ground. It was about 3 feet around and a foot-and-a-half deep, Aldrich said.
"Some fuses burn at 6800 feet a second." Some fuses, once lit, are nanosecond fuses.
When the crew begins lighting the fireworks they make sure that they are wearing fully protective clothing -- eye and ear wear, 100 percent cotton clothing with a fire extinguisher on hand.
The shells that Aldrich can get from the wholesaler can be as large as 24 inches in diameter. However, there is not room in Indpendence for them.
That is because each shell needs a fallout zone.
For each one inches that a shell is in diameter the shell needs 100 feet in each direction from the discharge site to come down.
That means that a shell that is 3 inches in diameter needs 300 feet in each direction to come down.
The largest shell that will be shot at this years Western Days is 6 inches in diameter and the mortar a possible 40 inches in length. Each mortar will have to be buried two-thirds of the way in the sand.
The mortars will be put in the ground a couple of days prior to the show, however there will be no explosives put in until the Fourth.
Starting at 8 a.m., firefighters begin putting in the shells for liftoff.
Unlike fireworks that are sold at roadside stands, the fireworks that Aldrich deals with look very different. Most look like they are a paper mache ball.
That is when they begin fusing the explosives together. They fuse two to 10 fireworks together depending on what has been done with the script.
"Once we light the fuse we have about two seconds to get away. We put masking tape over the top to make sure the shell came out of the mortar."
Sometimes Aldrich and his crew of about 10 put aluminum foil over everything. "We go through quite a few rolls of aluminum foil."
The aluminum foil is put into place to make sure that the embers that are falling on everything do not fall down and light a fuse on fire accidentally. "Once we light we don't look up."
They will not leave until midnight or 1 a.m. when the show is over and cleanup was begun. "We pick up as much as we can that night -- make sure that there is nothing live."
Most of the crew are firefighters and all have to be certified to deal with fireworks.
To make the site usable for Western Days, Sheriff Bob Wolfe will have to close the river to make sure that no boats are on it that will be hit from the falling debris.
There will be more than 1,000 shells shot off on the Fourth of July with choreographed patriotic music.
INDEPENDENCE -- Western Days features two fireworks displays.
The first starts at dusk Friday, July 4. The other starts at dusk Saturday, July 5, as part of Hometown Appreciation Day.
Both shows are at Riverview Park in Independence.