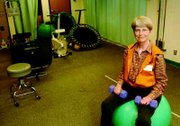 DALLAS -- Sylvia Alva spent several years without control of her bladder.
Getting that control back took only four weeks. But it took Alva a leap in awareness.
While most people don't talk about urinary incontinence, the National Institutes for Health estimate at least 10 to 15 million people in this country suffer from it. That's more than the combined populations of Oregon, Washington, Idaho, Montana and Nevada.
Alva shares one thing with most incontinence sufferers. She's an older woman. Alva, who lives in Monmouth, turns 74 next month.
"I want to make people aware there is help," she said. She wants to do for incontinence what First Lady Betty Ford did for breast cancer.
"Breast cancer was kept in the closet, and prostate cancer and all kinds of health problems." Alva said. "When the President's wife brought it up, women went and got mammograms."
Doctors still recommend yearly mammograms for women over 40. But after menopause, many women accept changes to their bodies as fate.
Some of these changes, however, can be reduced or even reversed.
So say Jane Mitchell and Gail Burton, physical therapists at West Valley Hospital rehabilitation services in Dallas. Four out of five people with incontinence can stop the problem without surgery, Mitchell said.
Osteoporosis is an even more prevalent -- and dangerous -- problem for aging women. More than 25 million Americans have the bone condition, which causes 250,000 hip fractures each year.
Those over 60 have a 50 percent chance of osteoporosis, Burton said. It's called a silent disease, Burton said, because most people don't notice pain until they've lost a lot of bone mass.
Osteoporosis is sometimes hard to catch. Since last December, however, West Valley Hospital has had an advantage -- a bone density test called DEXA Scan.
When the test shows bone loss, treatment begins. Patients work on posture, balance and exercise to strengthen bones and keep from falling. Even high-impact aerobics have a positive effect on bones, Burton said, despite its bad reputation for hurting joints.
The exercises for incontinence don't involve heavy lifting. But they're just as difficult for some to come around to, Mitchell said.
She helps patients find and strengthen the muscles that control the bladder. Bringing these deep pelvic muscles into ordinary conversation can be the hardest step.
"People won't talk about it," Mitchell said. Especially older people. "They accept it as inevitable."
Mitchell has seen patients ranging from their thirties to their nineties. "And the 92-year-old did as well as the 34-year-old."
Before Alva went for treatment, her urologist had told her she didn't have a problem. When she found out she could get help, she overcame her fears and gave it a try.
Alva saw results "almost immediately."
After four weekly classes teaching her how to work the muscles, Alva regained bladder control. Now she wants to let others know the benefits of overcoming their fears.
"Women and probably men have this problem and don't know whether help is available," she said. "This is very rare that there is this sort of help locally."
The program doesn't offer a miracle cure, Alva said, just a sensible solution. "You don't just go and that's it -- you have to do the exercises daily.
"It isn't just magic."
More information on West Valley Hospital physical therapy programs is available by calling 503-623-7305. Participation in incontinence and osteoporosis programs requires a doctor's referral.