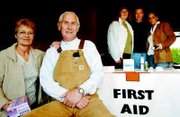 POLK COUNTY -- Twelve days before Christmas, Mark Sanner lay broken and bleeding after being struck by a train.
A stranger knew what to do.
"She saved his life," said Lonni Nicoll, Mark's sister.
"If she hadn't been there, holding his head up until the medics got there, he wouldn't be with us today.
"That was a turning point in our family," Nicoll said. "I moved back here from Washington and we've all gotten involved in volunteer work that helps folks."
Ten years after Mark's accident, he and his entire family honor the woman Lonni calls Mark's angel by leading the county's citizen emergency response team program -- or CERT.
"If we were all six to sit down and come up with a reason why we're so dedicated to this, we'd probably agree it started with Mark," Nicoll said.
Should terrorists, a flood, earthquake or other natural disaster strike, it will likely be the face of a CERT member that victims will see first.
No matter the challenge, CERT volunteers will have the skills to respond effectively and efficiently until emergency personnel can arrive.
"When something major happens, there's not a lot we can do," said Grace Sanner, Lonni and Mark's mother and founder of the local group. "This gives us something we can. I'm passionate about it.
"Perhaps a lot of the reason people panic is they don't know what to do," Sanner said. "A little education can help people understand that you can help yourself and maybe your neighbor too."
It took the Sanner family about three years to find the woman who saved Mark's life. "We had her over to the house, and we have a picture of her with Mark right there with our family photos," Nicoll said.
"I think of her when I think about CERT. The training we go through, the time we put in, may not make a difference to everyone but, like in Mark's case, those skills made a difference to one. And that meant so much to all of our family."
"When CERT came along everyone in our family, said, `That's great," Nicoll said. "If something major was to happen who would know to pick someone's head up out of the mud, pull the pin out of a fire extinguisher...do whatever needs to be done."
Mark Sanner, who also just graduated from the "train the trainers" four-day program in Eugene, plans to devote his life to emergency services work.
His commitment to CERT is "probably a little bit because of the wreck," he said. "It made me feel like I wanted to contribute something back."
"When that happened with Mark, it brought a huge awareness of how precious life is," Nicoll said. "You can read it in the paper, hear about it, but when someone you love comes close to death, when it happens to you, you get it."
The entire Sanner family will be CERT-certified to either be a team leader or responder for Polk CERT 1. In addition to Mark and Lonni, Grace and her husband Lonnie, there's daughters Lisa Bradford and Margaret Smith, who works for the Red Cross, son-in-law Scott Smith, retired from Salem Police Department and son Rob Hatchell, an officer with Independence Police Department.
"We can't always do anything about the big problems in the world," said Grace Sanner, "but we can do something to help not only our families but the communities we live in."
Community volunteers help in a time of crisis
POLK COUNTY -- Gene Furuyama wanted to help. He was in Boston Sept. 11, 2001.
Unable to get a flight out, a friend drove him to New York City.
"I wanted to help in the disaster, but since I wasn't certified I was relegated among the thousands of people wandering around the parks, and streets and not being able to help," Furuyama said.
He met some people there from a Baptist Church in South Carolina who had been called to help because of some training they'd received when a hurricane struck their state's coastline.
"I decided to get some training so I could be of assistance if there was another attack or a natural disaster like a flood or earthquake."
Soon after, the Dallas resident heard about Polk CERT 1 and the training it would offer. He and his wife, Flora, signed right up to be team captains for Dallas.
"To be of assistance and help anybody you have to have some basic skills and you've got to be able to take care of yourself too," he said, summing up the mission of CERT.
An acronym for Community Emergency Response Team, CERT is a national program held in cooperation with the U.S. Homeland Security office, Federal Emergency Management Agency, Oregon Emergency Management and Polk County emergency personnel.
When resources of emergency personnel like firefighters, EMTs and police are either overwhelmed in a disaster, have lost communication or are blocked by impassable roads, CERT members know what to do in the interim.
"It's a very simple, common sense type of approach," said Polk CERT founder Grace Sanner. "We're simply volunteers trained in basic stuff that could make a difference in case of a disaster.
"We're there first, so we can assess the situation and report to the paramedics, firefighters, whoever -- we can tell them `the walking wounded are here, there are so many dead, here are these people who need this...' we can report so they can get to what they need to do. We can shut off gas and give basic first aid."
When CERT was created, Sanner and her husband, Lonnie, were watch captains and founders of a Neighborhood Watch group in Independence.
"That group was getting kind of bored because there wasn't much crime in Independence," said Police Chief Vern Wells. "They've taken ahold of CERT and really run with it."
The Sanners, who have operated Ash Creek Mobile Home Park in Independence nearly 12 years, have been watch captains the last seven years. "CERT is about neighborhoods," Sanner said. "For example, here in the park we know everyone, we know a lot of the problems people have medically and will be able to help them exit their homes."
Wells said the work of CERT teams is literally life and death. "Folks realize that government can't do everything for them, that they need to be there for one another and the rest of the community if something does happen," he said. "These people have put in a lot of time and energy but it's been on their time and their dime. We couldn't ask for a better deal."
CERT falls under the citizen corps concept President Bush unveiled in his State of the Union address in January.
Until this year the only training site for CERT was in Baltimore, but this year FEMA funds were disbursed through Homeland Security as a result of the 2001 terrorist attacks. Now there are five training sites in Oregon.
There are still a number of slots open for teams in Dallas and Monmouth. While Independence teams are filled, interested people can still call to be placed on future teams or go through the training. Each team must have 25 members.
Sanner's daughter, Lonni Nicoll, just completed additional training for her role as project manager. She was able to win a competitive grant from the Federal Emergency Management Agency for $27,000 for Polk County's teams. The grant ensures all training and materials will be free to participants.
The federal funds for all of Oregon totaled $187,000, and "many, many who applied didn't get any," Nicoll said.
"We need to fill our teams because we want to make sure we use the money correctly and the way the government intended. A lot of areas are charging for the training, but we don't."
Using the model created by the Los Angeles Fire Department, FEMA began promoting the CERT idea in 1994. Since then, CERTs have been established in hundreds of communities.
"The LA firefighters had trained hundreds of volunteers," said Sanner. "They had 225 volunteers in the area in 1987 when they had the Whittier earthquake two years after they started the program. Some of the volunteers were able to get there and do some good."
Sanner started doing some research into earthquakes in 2001, and started noting the 6-point or greater ones on her map. "By the end of the year I had to buy a new one." Being from the Bay Area, Sanner is used to the idea of earthquakes, and knows about the damage aftershocks can cause.
"Most people here don't know much about them, and we have a very real danger of earthquakes here," she said. "CERT will be able to provide real help in that event."
After the Sanners' Neighborhood Watch involvement came Y2K. "We began wondering what happens if," Sanner said. Then the City of Independence offered Sanner the opportunity to go to some seminars through Rural Initiatives Development. From networking there, Sanner learned about CERT. Then came the floods of '96.
Sanner began talking with Laureen Paulson of the Polk County Sheriff's Office, who got the process moving along. In August of 2001 they'd come up with a training program.
The first session was to begin Sept. 20. Then came Sept. 11. "Twenty-seven people showed up for that first training session," Sanner said.
Polk CERT 1 has been certified since Dec. 2001, and is in the process of recertifying its teams. Four new teams are about to start training. There will be a new team in Independence, two in Monmouth and one in Dallas.
Sanner said people shouldn't let the nature of the comprehensive training keep them from signing up. "Our first priority for team members is not to put yourself in danger because if you're in danger you can't be of help to anyone else," she said.
"It's really not that intimidating," said her son, Mark Sanner, another CERT member. "It's all about the community coming together in a disaster situation. It's not as difficult as it sounds. It's just taking care of things before a first responder gets there. It's not that overwhelming once you've gone to the classes."
And while the training focuses on the community level, the skills can be just as helpful at home. "You might be in a position to need it and know what to do to make a difference in just one life," Nicoll said. "Those first 30 minutes can make that difference."
"It's a great thing to do," said Independence Police Chief Vern Wells. "If we ever have a major disaster of any kind we clearly don't have the manpower to deal with it. We know that from some past disasters that are minor in comparison for what these folks are planning for," Wells said.
"When we had floods and windstorms we ran out of resources quickly, and we won't have the hope of bringing in emergency people very quickly," he said.
"Having some folks that are available and trained is a relief."
The CERT concept fits nicely into Independence's strategic plans. "When we did our planning last year security was a concern several people had," said City Manager Greg Ellis.
"Following through with CERT shows that Chief Wells heard those concerns."
The bottom line with CERT goes back to the days when neighbors helped neighbors as a way of life. While disaster preparedness training is a far cry from an old-fashioned barn raising, Sanner and other CERT members hope it will bring back some of that old-fashioned feeling.
"It's too bad we've gotten away from that feel of knowing your neighbor and being there to lend a hand," said Nicoll. "But CERT is helping do exactly that, tying people together in a way we haven't seen for quite awhile."