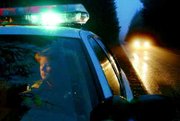 As Terra Duncan sees it, children lose the most in budget cuts that extinguished Polk County's drug enforcement and investigation unit last month.
People need to realize drug and alcohol abuse pose a critical threat to children, Duncan said.
As a Polk County sheriff's deputy, Duncan often sees infants and children whose parents abuse drugs.
"When you talk about people in jail for drug offenses, you're talking about a large portion of them who have children. Those kids become part of the system, growing up without their parents," Duncan said.
"A good portion are born drug-addicted or with fetal alcohol syndrome. They have special needs, demand more attention and have more problems than other children do.
"They're a challenge for someone who isn't on drugs."
While sexual and physical abuse can be found anywhere in the economic spectrum, child neglect more often surfaces in lower-income families where drug and alcohol use is involved.
"It's just going to get worse because the law enforcement budgets are being cut," Duncan said.
The sherriff's office lost two positions and shuffling to fill in the gaps has left holes in the drug enforcement area.
"There are similar stories in the police departments, and what that means is you don't have the people to go after the drug dealers," Duncan said.
With a limping economy, substance abuse increases. "It's how some people deal with stress. So what we're seeing is the direct correlation between substance abuse and child abuse and child sexual abuse," Duncan said.
Just being around drugs hurts children. Meth labs often hide in homes where children live.
"The children are exposed to what that lab brings in and the frequent visitors," Duncan said.
"It's not uncommon for us to go where little kids are and find the crack pipe on the table and the marijuana on the counter."
Aside from substance abuse, Duncan believes the public's confusion about the definition of child abuse makes protecting children tough.
"Just a spanking isn't child abuse. That's not what we're talking about. Awhile back some people were overzealous in investigating child abuse charges, and now people don't take it seriously.
"When people are hitting their kids in the face, with belts and leaving large bruises, throwing things across the room, it goes beyond discipline, beyond a spanking, they're left with bruises and broken bones -- that's not proper discipline," she said.
"When a child tells and nothing happens, when the parent punishes the child for telling, they don't tell again. We had a case in which a man beat his daughter violently, leaving his daughter covered head to toe in severe bruises, up and down both arms and legs.
"Until this day he sees nothing wrong with what he did."
Duncan doesn't see making strides in awareness or even more money as magic solutions. Stricter punishments for first-time offenders is the key to getting the attention of people who abuse children, she believes.
"Make it so they won't want to do it again. We have adequate bed space in our jail and yet offenders are released within hours or days of being arrested. They should get a stricter punishment that sends the message that we're not going to tolerate this," she said.
While Duncan supports the legislation that makes domestic violence committed in the presence of or within earshot of a child a felony, she doesn't believe the message it brings has hit home.
"Children who witness violence are victims. You'd be surprised how many people get into very heated arguments with their spouse or even commit domestic violence, and don't realize the child is a victim," Duncan said.
Duncan and other law enforcement officials are seeing a different kind of child abuse reaching uncomfortable numbers -- sibling violence.
She recently responded to a home where a boy tried to choke his sister. "When parents aren't taking responsibility, the older is forced to and some soon begin to resent their younger sibling."
She also sees more cases of children attacking parents in homes where parents didn't establish boundaries when the children were younger. "When the parents try to enforce the rules all of a sudden when they're teenagers, it's a joke."
Ultimately, Duncan sees early intervention as the key to breaking the cycle of economics, substance abuse and crime.
"Throwing money at drug and alcohol rehab programs for people who don't want the help, who are just avoiding jail, isn't the answer," Duncan said.
"We've got to stop cutting the budgets of the agencies that can make a difference in the beginning."
Child abuse statistics:
How common is child abuse?
In Oregon, 10,186 victims of child abuse and neglect were identified in 2000 by Child Welfare.
This reflects a 9.4 percent decrease from the previous year. There were 35,552 reports made of suspected child abuse and neglect, up 2.5 percent from the previous year.
The number of reports shows a 50 percent increase since 1991.
Who are the abusers?
Family members account for more than 93 percent of all alleged abusers.
Of those 42 percent are the child's mother. More than 27 percent are the father.
Who is being abused?
Children of every age are abused and neglected in Oregon, but the group that is most in danger are from birth to 2 years old.
They make up 20 percent of all abused and neglected children.
Abusive families often have at least one of the following stresses:
♦ Substance abuse by parent.
♦Unemployment.
♦ Parental involvement with law enforcement.
♦ Domestic violence.
What about deaths from abuse?
Child deaths continue to be a result of abuse and neglect. In 2000, 21 children were killed by abuse and neglect in Oregon. Twelve of these deaths resulted from neglect. Nine were caused by abuse.
Statistics from Oregon Department of Human Services