Tuesday, November 18, 2003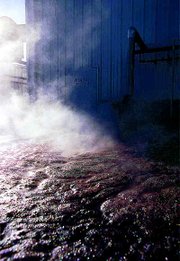 POLK COUNTY -- Polk County's household hazardous waste disposal program will get a boost from Meduri Farms. A Department of Environmental Quality program lets polluters pay their fines to causes that help the environment instead of DEQ itself.
Polk County officials had planned a collection program to remove toxins residents might have in their homes, including paints and solvents, motor oil and batteries. To get it moving, they first needed a vehicle to collect the waste.
Their chance came last May, when DEQ fined Meduri Farms more than $40,000. Meduri president Joe Meduri settled with DEQ, agreeing to pay $31,400 to Polk County.
Meduri paid $6,600 to DEQ. DEQ dropped more than $2,000 from the fine because, Administrator Anne R. Price wrote in her order, Meduri "took extraordinary efforts to ensure the violations would not be repeated."
Polk County will receive Meduri's first payment next month. Officials plan to buy a 53-foot trailer and retrofit it for carrying hazardous waste.
The trailer and modifications together would cost around $37,000.
Community Development Director Gene Clemens said Polk County will have the trailer by April. By that point, county and city officials will need to determine how to pay for the program.
City and county officials likely will vote on whether to include a tax on garbage bills to pay for the program. Under a Polk County plan, the waste would be taken to a Marion County disposal site.