Tuesday, November 25, 2003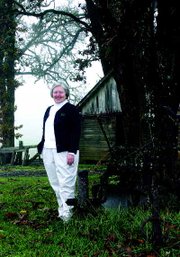 RICKREALL-- Becoming a leader for an organization that acts and speaks out on behalf of the nation's agricultural industry wasn't something Carol Marx of Rickreall said she'd set out to do.
Rather, it just sort of happened.
Fifteen years ago, she joined the Polk County chapter of Oregon Women for Agriculture, a natural fit for somebody involved in farming most of her life.
"I had heard about them, knew that they worked with the different issues pertinent to farmers, and that they were involved in a number of educational efforts," Marx said.
"I joined OWA to try and make a difference for agriculture."
Over the years, she served the group in many different capacities, including state president.
Now she'll be working on a broader scale. Two weeks ago, Marx was made head of American Agri-Women, and will effectively represent more than 5,000 farmers, ranchers and agri-businesses across the country.
Members of the Polk County OWA -- an AAW affiliate -- say Marx is the right woman for the job.
"She'll make an excellent president," said OWA Vice President Gwen Mulkey. "Her intelligence, insight and ability to grasp what the issues are make Carol a very well-respected woman."
The new position already has Marx off and running; she flew to Washington, D.C. this weekend for a conference on biotechnology in America's farm commodities.
Marx said cross-country trips like this during the next two years -- the length of her term in office -- will soon be normal parts of her life.
"Some of our organization's past presidents have told me 'Don't expect to see your dining room table again'", she said. "There's going to be a lot of traveling.
She adds, however, that the trip will be part of her "education process. It's a good way to try and keep up to date with all the current developments and important issues in the industry."
Living on a farm most of her life, Marx has had time to learn those issues firsthand. She grew up in Bridgeport, on a prune orchard with her mother, and helped raise calves and pigs. Once in a while, she even drove tractor.
Her mother's parents, who lived outside Monmouth farmed, as did family on her late father's side in Minnesota.
"I come from a couple of generations of farmers," she said.
Carol Marx said her only time away from a farm were two years spent in Germany while husband Merle Marx was in the military.
In 1971, the couple returned to Oregon. Merle began operating part of his family's wheat and grass seed farm while Carol did the bookkeeping and raised their three children.
"I was a stay-at-home mom and a typical farm wife," she said.
It wasn't until 1988 that Carol Marx decided to join the local OWA chapter, and later moved on to serve as the OWA state board's vice-president and president.
Marx's peers in the OWA say she has a talent when it comes to researching agriculture-related issues.
"I'm pretty new to farming myself," said Tami Bonnett, Marx's niece and a member of the OWA, "so whenever I have questions concerning our farms, she's very helpful. She just knows about all these issues in depth, no matter what they are."
Mulkey said her e-mail inbox is full of complex studies and reports on farming sent to her by Marx.
"She's always sending us articles; there's so many, I can't pick out just one," she said. "But she understands all of them.
"Some of the ladies can't retain all of it like her, but Carol, she gets a grasp on it and somehow turns it into English."
As the AAW resource-board secretary for two years, Marx had to become accustomed to researching policy issues inside and out. She said it's helped her grow as a person.
"I've learned that things are always complex," she said. "And referring back to how complex things are...I've learned that people can do things with good intentions that yield bad results."
Marx mentions the Endangered Species Act, as it relates to the spotted owl and the timber industry, and sucker fish and limited irrigation in Klamath Falls, as examples.
"With the Endangered Species Act, no one thought it would affect farmers the way that it has," she said. "[Former Oregon Sen. Mark] Hatfield voted on it, and even he didn't think it would have the effect that it has."
Marx said reforming the act is something she plans to address during her presidency.
Mostly, however, she wants to facilitate the ideas of her peers, nationally and locally.
"That's why I wanted to be president," she said. "I'm a conduit for what these dedicated ladies can do."