Tuesday, November 25, 2003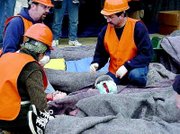 DALLAS -- A group of students in Dallas took their final exam last week -- in the form of an earthquake.
Members of the Dallas Community Emergency Response Team (CERT) graduated from training Nov. 23. First, however, they had to endure disaster.
The mock disaster tested trainees on a variety of skills. CERT uses trained citizens to respond if an earthquake or similar disaster overwhelms police, fire and ambulance services.
Trainees learn about fire suppression, medical triage, light search and rescue and team organization. Gene and Flora Furuyama lead the Dallas team.
They and a dozen other CERT members completed their training with members of the Independence CERT. The Furuyamas then approached Dallas City Manager Roger Jordan about starting a Dallas team.
City officials received a $12,000 grant from the Federal Emergency Management Association to cover the cost of training and equipping a local CERT.
"CERT program managers Eugene and Flora Furuyama were instrumental in doing the research related to the grant and submitting the first for final submission," said Lt. Tom Simpson of the Dallas Police Department.
If CERT members are needed, Jordan can direct their activities. Simpson will direct CERT on a day-to-day basis under the City of Dallas Emergency Plan.
The next Dallas CERT training starts in February of 2004. Simpson said the goal is to train and equip 60 new members to join the original group and help multiple 8-member teams to be assigned throughout the city.
"The city of Dallas has formed a strong partnership with the newly formed team and we plan to continue managed growth to provide the best coverage for the community," Simpson said.
More information is available by calling Furuyama at 503-623-0135 or Simpson at 503-623-3516.