Wednesday, October 1, 2003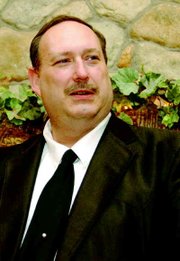 POLK COUNTY -- Polk County's longest-serving county commissioner announced his resignation Sept. 29. Mike Propes said his heart condition, atrial fibrillation, prevents him from finishing his term.
Propes was first elected in 1988. In that time, he has distinguished himself both locally and statewide for his work on transportation and forestry issues.
He spearheaded projects to increase safety on highways 22 and 18 -- two of Oregon's most dangerous. A forester and forestry teacher by trade, Propes chaired the Council of Forest Trust Land Counties, advising state foresters.
Propes has received many awards, including First Citizen honors in Willamina, First Citizen and Junior First Citizen in Dallas, the Gwen VanDenBosch Regional Leadership Award and the Outstanding Young Man of America Award.
Propes has not announced the date he will step down.
Polk County's Republican Central Committee was scheduled to meet Sept. 30. The committee will nominate candidates to round out Propes' term, which ends January, 2005.
The committee will offer candidates within 20 days after Propes' announcement. Remaining commissioners Ron Dodge and Tom Ritchey then have 10 days to choose an interim commissioner.
Retiring commissioner leaves impressions
POLK COUNTY -- Though the oversized road sign in his office reads "Keep to the Right," Polk County Commissioner Mike Propes has sought the middle ground for much of his 15 years in office.
Propes announced his retirement Sept. 29, citing long-standing heart problems.
Propes came to county government as a forester and forestry teacher at Willamina High School. He used that experience as chair of the Council of Forest Trust Land Counties, representing 18 counties on forest management.
Propes helped forge a compromise between environmental and logging interests in the state's forestry plan. "There's a balance somewhere between shutting down the forest completely and clear-cutting everything," Propes said.
When logging restrictions cut off a major source of money to Polk County, Propes lobbied in Washington D.C. for a way to soften the blow. He helped secure Polk County $2 million annually from Congress.
Propes returned to Washington to push safety improvements on Highway 22, one of the state's deadliest. The highway's intersection with Highway 99 near Rickreall will get a freeway-style interchange starting in 2005.
Propes, a Republican, worked closely with state and federal lawmakers of both parties. "I've appreciated Mike's common-sense approach to solving problems," said U.S. Rep. Darlene Hooley, a Democrat.
"His efforts to to improve safety on Highway 22 are paying off with millions of dollars in federal and state investments in a new interchange."
A believer in smaller government, Propes never hesitated to spend money where he saw a need. In 1996, the three county commissioners campaigned for a new jail, a measure voters passed that November.
"It was obvious we had a real problem with the jail," Propes said. "We were housing prisoners all over the state." The new jail opened in 1999.
Propes long championed the county's children and its elderly, serving on the Commission for Children and Families and the Mid-Willamette Valley Senior Services Agency. "Kids and seniors are really where I saw the need," he said.
"Those are where government should be in people's lives."
Gretchen Bennett managed the county's Commission for Children and Families when Propes was cochair. "He had a real steady dedication to children's issues," she said.
One look at his calendar would confirm that, Bennett said. "There might be one or two weeknights a month that didn't have something."
With his heart condition, Propes couldn't keep up that schedule. His atrial fibrillation causes his heart to beat up to 150 times per minute; two operations have not helped.
As a commissioner, Propes could show up twice a week for meetings. But fellow Commissioner Tom Ritchey said Propes would never settle.
"It's Mike's makeup that if he can't give 100 percent to the job he should step aside."
Commissioner Ron Dodge was elected two years after Propes and saw him as an early mentor. "It's been a great 13 years with him," Dodge said.
Disagreements never turned personal -- or political, said Dodge, a Democrat. "There's never been any partisanship in this job."
Propes enjoyed working with people, preferring an angry citizen to an uninvolved one. "I like dealing with problems," he said.
"I've never liked the day-to-day routine. If something kind of blew up and we needed to work through it, I always liked trying to find an answer."
Propes credits his parents for inspiring his commitment to service and his wife and children for continuing support. But much of his drive -- as with highway safety -- came from a sense that he could help right a wrong.
"I guess I'm just stubborn," Propes said. "When I see something that critical that needs to be done, I just keep working at it."