Tuesday, September 16, 2003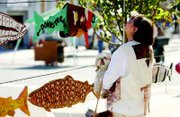 Cooks show off
their recipes
POLK COUNTY -- Polk County cooks have a chance to show off their expertise during the annual Heritage Cook Off at the Independence Hop and Heritage Festival Saturday, Sept. 27.
There are three categories -- appetizers, main dishes and desserts.
Appetizers may include vegetables, sea fish or shell fish. Main dishes may include poultry, beef, pork or wild game. Desserts may include cakes, pastries, apples, cane berries and other fruits.
All entries must be made from scratch. They will be evaluated on a point system in five basic areas.
Cooks may enter in two categories. Whenever possible, they are encouraged to highlight foods caught or grown in Oregon.
More information is available by calling 503-838-4051.
Tractor pull
starts at park
INDEPENDENCE -- The annual Independence Hop and Heritage Festival features a tractor show and pull Saturday, Sept. 27, sponsored by the Oregon Tractor Pullers Association.
Weigh-in starts at 10 a.m. There is a $10 entry fee. The pull starts at noon.
The pull will be open to local tractor enthusiasts.
This sport was once a common weekend diversion, pitting neighbor against neighbor, after long days working the field. In recent years, it has become a full-fledged sport.
Tractors will be pulled by weight class. There will be an exhibition class as well this year.
There will also be a display of old and new farm equipment.
Ghosts haunt
Main Street
INDEPENDENCE -- Ghosts like to hang out in downtown Independence.
Occupants of a number of old buildings report things that go bump in the night. Ghost legends abound along Main Street.
This year, a total of 13 buildings in Independence are included in the annual Ghost Walk. People can tour some of local ghosts' favorite "haunts" starting at 8 p.m. Friday, Sept. 26.
The walk begins with a "Vaux Social" at the old library at the corner of Third and Monmouth streets.
Vaux Swifts, local birds noted for their dramatic way of roosting involving forming the flock into a tornado-like mass and suddenly swooping down a chimney or other habitat, begin the festivities at midnight.
Buildings on the Ghost Walk include the Masonic Lodge, Odd Fellows Hall and Independence Opera House.
Others buildings will be closed, but signs posted outside will tell of the building's history and any unexplained occurences that have happened there.
Many area businesses will be open with spook-themed menus and decorations.
Jeffrey Adams, who writes radio horror and science fiction dramas for the Internet, serves as the host of this year's Ghost Walk. Adams also works part-time at the Independence Heritage Museum (which also has its own ghostly legends).
Last year's Ghost Walk attracted 350 people. This year, walkers can take guided or self-directed tours. Maps and narratives will be available.
The Ghost Walk is free. Refreshments are provided by Taylor's Drug.
Royalty crowned
at new library
INDEPENDENCE -- The first Independence Hop & Heritage Festival royalty will be crowned at 8 p.m. Friday, Sept. 26, at the Masonic Lodge.
Tembre Lynn Smithey and Belen Rodriguez will be crowned princess on the strength of essays they submitted on Independence history.
Radio theater
comes alive
INDEPENDENCE -- The Oregon Radio Theater presents "Wagons...Here!" -- a slightly twisted version of Independence History -- at the Independence Hop & Heritage Festival at the new Independence Public Library at 11 a.m. Saturday, Sept. 27.
The theater group presented two radio plays in 2002 at Rick's Place in Monmouth.
Local actors involved in the production include Chris and Marian Scadden of Qwerks Theatre in Dallas. Rachel Adams, 9, of Monmouth will also perform.
She starred in "Up on the Rooftops" -- an episode of the Monmouth-based Internet audio series "Imagination-X" (written by her father, Jeffrey Adams).
The episode won an Ogle Award from the American Society for Science Fiction and Audio.
"Wagons...Here!" is a comedy that tells the story of Independence from 1845 to the present. Jeffrey Adams said the play should be taken as entertainment.
"However, all the facts that went into its creation are accurate."
Admission to the play is free.