Wednesday, August 25, 2004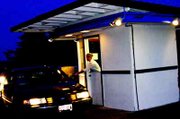 DALLAS -- On one hand, it's among the last of a dying breed. A dinosaur. A relic of the past.
On the other hand, it's a wildly popular, ongoing concern.
It perhaps draws more out-of-towners to the area than any other local business.
The Motor-Vu Drive-In at 315 SE Fir Villa in Dallas somehow manages to fit both descriptions.
"There's been a major resurgence in the last eight or 10 years," said Motor-Vu owner Ron Burch. "Of the few drive-ins left, most of them are really popular. They do the best business of most theaters in their area. We're lucky. The Dallas drive-in is the only one in the state that runs a full schedule of shows.
"We're also the only drive-in close to I-5 from Seattle all the way to Northern California. We get people from Washington every week. On an average weekend, we probably get 50 out-of-state license plates. What used to be a local business has shifted to where we get a lot more people from out of town than in town."
There are many different ways to view movies these days, everything from indoor theaters to VCRs and DVDs to cable and pay-per-view. But nothing, it seems, is quite like loading up the car and heading out to the drive-in for a double feature.
"It's just a different experience," said Brandon Sylvester, assistant manager of the Motor-Vu for the past three summers.
"You can come out here and it's nice. It's nice to be outside. You can talk a little bit during the movie and not worry about bothering people. It's definitely unique."
A quick check of the attendees on a recent Saturday evening found visitors from several surrounding communities as well as a couple of drive-in extremists from Vancouver, B.C.
"I don't know," said Canadian Ron Roxburgh, who estimated he's visited 60 different drive-ins. "It's just one thing from our past we enjoy doing. In British Columbia, there's only one left in our area. He was moving this year. They had a big crane to move the screen and they dropped it.
"They're usually all pretty much the same. Usually, the only thing that's different is the sign outside. Some of them are pretty elaborate. Some of them are just those little signs on wheels."
The Dallas drive-in is one of four in the state, joining Newberg, LaGrande and Milton-Freewater. Another in Lebanon closed recently. Dallas boasts the largest screen in the state and was the clear winner in an unofficial popularity poll.
"It's really fun," Callie Howard of Yamhill said. "I don't know. It just is. This one's a lot nicer than the Newberg one. It's a lot cleaner, and there's not a bunch of hoodlums running around."
For the all popularity of the few drive-ins that are left, Burch doesn't expect a bunch of new ones to pop up anytime soon.
"They've got so many restrictions now that didn't used to exist," Burch said. "There's a lot of environmental and zoning ordinances. In the '70s, when all the future planning and urban growth boundaries came in, they started cutting all these things out. Even if you could find the land, you probably couldn't the zoning."
Another drawback to a drive-in is that it inherently takes up a lot of space. The Dallas Motor-Vu sits on a 12-acre lot and can -- and does -- accommodate around 450 cars on a busy night.
The other problem, particularly in the Northwest, is that the whole thing is going to sit empty and unused for much of the year. No one is going to a drive-in in the pouring rain, not to watch "Tthe Grapes of Wrath" or even "Spider-Man II."
Burch said he usually opens on Memorial Day and begins to shut down by Labor Day. In a good year, the Dallas Motor-Vu might be able to remain open until Thanksgiving or so.
Some people are drawn to the drive-in because of the freedom to do what they want in their own vehicle. That, too, can be a problem at times.
"At a drive-in, the crowd is a lot different," Burch said. "Because people have their own space, their car, people think they own the space around their car. There can be some pretty (laughs) interesting stuff out there.
"You'll have people doing something wildly unsafe. We just make them leave. Sometimes they'll sit there and argue with you. There's nothing to argue about. The biggest thing is helping people to understand there not the only people there. Most everybody is real good. But every now and then, you get someone and it's just all about them."