Tuesday, November 23, 2004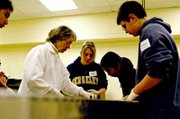 MONMOUTH -- Dr. Irja Galvan rests her hands on the surface of a smooth, stainless steel tank in the basement of Western Oregon University's Natural Science building.
"Are you ready?" asks Galvan, clad in a white lab jacket and surgical gloves.
A small group of high school and junior high students stand a few feet away, expressions of excitement -- and apprehension -- on their faces.
They look at each other, then the tank. There's a body inside of it.
Galvan pulls open the heavy container doors one at a time, and draws back a soggy white sheet -- stained a grisly reddish-brown -- to reveal a male cadaver.
Galvan, an associate professor of biology at Western, said the man was in his 50s when he died two years ago, of a blood clot to the brain. Stripped of all hair, skin and fat tissue, the surface of the body is nothing but muscle and sinew.
The scent of isopropyl alcohol solution used to preserve the specimen begins to fill Galvan's classroom. She had advised the students before getting started to sit down and put their heads between their legs if the fumes made them dizzy.
"Oh, that's disgusting," Jennifer Kerfoot, a middle school student from Eugene, mutters softly. An aspiring bioengineer, she buries her nose into the collar of her fleece.
Jacob Barker, a LaCreole Middle School student takes a whiff.
"It doesn't smell that bad," he exclaims. "It's a lot less worse than when I had to dissect a sheep's eyes."
Portions of the body have already been cut for the college anatomy classes Galvan teaches, to expose the organs underneath.
Galvan starts this lecture from the head and works her way down, removing the rib cage to display a pair of lungs blackened by eithe smoking or pollution. She pushes aside rubbery flaps of abdominal muscles, showing off the length and flexibility of the lower intestines.
The kids had put some distance between themselves and the body when Galvan began her presentation. After a few minutes, however, everyone crowds around the tank for a better look.
"It feels like a steak," says Barker, as he and a few others don surgical gloves and poke and prod at leg tendons and muscles.
Galvin -- or "Dr. Evil" to her lab students -- had predicted as much earlier in the day.
"There's something awesome that comes over them, having a dead body before their eyes," Galvan says. "I tell them nobody has to look, but it's a funny phenomenon, they all move forward, inch by inch."
Galvan, a few colleagues from Western's biology department and a dozen junior high and high school students conducted a series of anatomy-related lab activities Nov. 20.
The day was part of Western's Adventures in Math and Science, an educational enrichment program funded by a National Science Foundation grant that offers young people hands-on opportunities in science in a college setting.
The students used computers to test and time their reflexes, dissected animal organs, and of course, studied human physiology using a cadaver.
Galvan has been doing tours of the anatomy lab for high school classes since coming to Western in 1994. She works with more than 300 kids a year.
"I love the look they get on their faces, that 'Oh my gosh, that's what we look like inside!" she said. "They can learn about science through text books, but for physiology, you have to put together something tangible to go with the words."
Western has two cadavers on loan from Oregon Health and Sciences University in Portland to teach biology students. It will be returned to that institution next September, to be cremated in a ceremony for those who've donated their bodies for research.
At the beginning of last weekend's session, Galvan laid down one of the most important rules of her class.
"We don't make fun of the bodies, laugh at their expense or make jokes. These were people who were alive like us at one point," she said. "They gave us a great gift to be able to teach so we treat them with respect."
Galvan and her group talked about the functions of the body's different organ systems, described how blood circulates through the heart and how specific portions of the brain -- which she removed entirely from the cadaver's skull -- control different emotions.
Galvan said there's always a few squeamish students in the college biology courses she teaches. During the last eight years, two even fainted. That's usually not the case with younger students, she said.
"It's always a surprise that the younger they are, the less grossed out they are," she said. "It's more entertainment for them than anything."
Barker said the experience was "pretty cool."
"I've always liked dissecting things in science class," he said.