Wednesday, October 20, 2004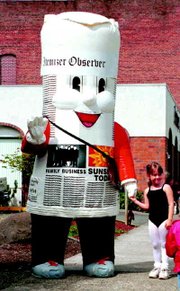 EDITOR'S NOTE: While our "Mild-Mannered Reporter" enjoys a well-deserved rest at a sanitarium in upstate New York, we turn this space over to Mr. Newspaper to answer some of your questions about community journalism.
DEAR MR. NEWSPAPER:
You just ran that story about zombies eating Donald Rumsfeld's brain to sell newspapers.
Technically, that was not a question. It was a statement. If you have trouble telling the difference, remember that a question ends in a quesution mark and a statement ends in a period.
DEAR MR. NEWSPAPER:
OK, wise guy. Did you just run that story about zombies eating Donald Rumsfeld's brain to sell newspapers?
Much better. And yes, we wanted to sell newspapers.
Accusing us of trying to sell newspapers is a like accusing Ronald McDonald of trying to sell cheeseburgers.
It would be no fun at all if we learned all this stuff and kept it our little secret. We spend a lot of time and effort putting out newspapers. We kind of hope people will buy them.
In addition, advertisers feel more comfortable buying space in newspapers that people read. And we like advertisers. We make most of our money from their benevolent patronage.
We also make a few cents off subscriptions. If we have a particular gripping story, like zombies eating Donald Rumsfeld's brain, a hundred extra copies might fly off the newsstand.
You know what that means? Journalism jargon has a word for it: Diddly-poo. The fortunes of the paper do not rise or fall based on how one issue does at the grocery story. If zombies really did eat Rumsfeld's brain, we might be able to buy extra-fluffy bathroom tissue.
Otherwise, our motives are strictly honorable. Call us corny. Call us old-fashioned. When zombies are running around the community eating people's brains, we think people have a right to know.
DEAR MR. NEWSPAPER:
I heard that most newspapers are written on the second- or third-grade level. Is this true?
Yes. This is because you people are stupid. One might say you are imbeciles, but that has three syllables instead of two so you might think it's a compliment.
Just kidding. Seriously, folks, good writing is simple writing. It goes from Point A to Point B in a straight line. It never buys an obscure word for $5 when it could get one everyone understands for 25 cents.
Verbose writers are usually simpering little nerds out to impress the other kids on the chess club. George F. Will and William F. Buckley spring to mind.
(Pretentious writers love using their middle initials.)
Will spent his formative years whining "Come on guys, not funny" to the football players who took his inhaler. He later sniffed statements like this:
"I trace the pedigree of my philosophy to Burke and others who were more skepitcal, even pessimistic, about the modern world than those who call themselves conservative."
Of course, he never made it beyond "pedigree of my philosophy" before quarterback Biff Mulligan gave him an Atomic Wedgie (the results of which linger to this day).
In contrast, consider how my man Ernie Pyle put together a sentence:
"The man looked down into the dead captain's face, and then he spoke directly to him, as though he were alive. He said: 'I'm sorry, old man.'"
Not one three-syllable word in the bunch -- certainly nothing as pretentious as "philosophical pedigree." But which writer would you rather spend the afternoon with?
It's not about "dumbing down" the language. It's about writing to express rather than impress. No one cares that you got a thesaurus for your birthday.
Readers just want to come away with something new and vaguely interesting.
We help them get it as quickly and directly as possible.
DEAR MR. NEWSPAPER:
You media people are wild-eyed liberal fanatics, aren't you? Aren't you?! Aren't you?! ANSWER ME!!
Bang. You got us.
Now sit down and breathe deeply.
Let me tell you what happened. After the fall of the Soviet Union, many of the Communist overlords who failed to to destroy our way of life found themselves out of work. They decided to come to America and buy up small newspapers.
They hired pot-smoking slackers straight out of journalism school and proceeded to wage war on Everything Decent by only running stories about liberal pie sales and quilt raffles.
Actually, the truth is somewhere in the middle. Publishers are not former Communist overlords. But journalists are generally pot-smoking slackers (like William F. Buckley).
As for ideology, some are liberal. Some are conservative. Most are actually obsessed with objectivity, neutrality and fairness (unless they work for Fox).
All reporters really want is to tell good stories. If the story happens to have a brain-eating zombie in it, well, so much the better.
("Ask Mr. Newspaper" is written by one of Managing Editor Tom Henderson's other personalities, the one that looks like a giant inflatable newspaper.)