Wednesday, August 10, 2005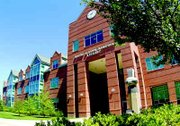 (mary byline)
Collection development librarian Camila Gabaldon is enjoying the journey of compiling Western Oregon University's 150-year history. "Susan B. Anthony may have spoken at the university," Gabaldon said.
Five-year-old Hamersly Library will exhibit throughout the 2005-2006 school year a collection that celebrates the theme "Past & Present," in recognition of the university sesquicentennial celebration.
Local residents can view the exhibit of 290,000 books, journals, media materials and government documents.
Gabaldon scouts eBay to locate memorabilia such as yearbooks, band uniforms, photos and anything else related to the university's rich history. "It has been fun putting together this body of knowledge," she said.
The goal for the library is to start displaying the exhibit when the fall term begins in September.
The library works in partnership with a number of high schools in preparing their students for college. Dallas High School college writing teacher Justin Chin has his students use the library to complete a language and culture research paper.
"Hamersly library opens the student world to collegiate academics that they would not find at the DHS library," said Chin. "Outreach librarian Bryan Miyagishima's calm and helpful demeanor helps the students not feel intimidated by the whole collegiate research process."
Other high schools that regularly use the library are Perrydale and Santiam Christian.
Hamersly is different from other libraries in some respects. Minors under 18 years old need to be accompanied by an adult, for one thing. "The library doesn't have safeguards that a public library would have," said public service librarian Janeanne Rockwell-Kincanon.
The checkout counter assists residents in applying for a free Hamersly borrower card, which is valid for a year. In addition to a free card, residents have access to a free parking pass.
Reference librarians are available at the information desk to help with locating rare resources -- like the eight original Lewis and Clark Expedition volumes that explain in detail their journey. Those are on the second floor.
Miyagishima said that the library also has extensive genealogy information for family history enthusiastd.
The Library's computer catalog is called Wolf. This database locates books and journals. Also, thousands of periodicals are available in electronic full text through computer databases, and the users can e-mail these articles to themselves.
The library's computers may not always be available to community residents, depending on the volume of student use.
if a large number of students using the computers. A copy machine is available near the checkout counter (the charge is 5 cents per page with a copy card and 10 cents per page without one.
--
Summer Hours
Monday-Friday: 8 a.m. to 5 p.m.
School-Term Hours
(Fall, Winter, Spring Terms)
Monday-Thursday, 7:30 a.m. to midnight
Friday: 7:30 a.m. to 6 p.m.
Saturday: 10 a.m. to 6 p.m.
Sunday: Noon to midnight