Wednesday, December 28, 2005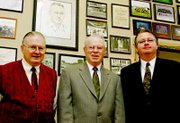 By SAM SCOTT
The Itemizer-Observer
DALLAS -- David Cooley -- son of Loren Cooley, nephew of Gary Cooley, grandson of the late Bruce Cooley -- looks to be the third generation of his family to run Cooley's Furniture in Dallas.
Things have run much the same for years at Cooley's, which celebrated its 60th anniversary on Dec. 15. Perhaps David Cooley thinks it's time to cast aside the ideas and ways of the past and move the business in a new direction, into the computer age and the 21st century and all that.
Perhaps not.
"I'm pretty much going to keep it the way it's going for now," he said. "I want to keep it family-oriented. People like the small-town service. If you don't do it that way, it gets sterile. With furnishings, people want to see it and touch it and feel it. I don't think people want to buy a couch over the internet."
The business was started by Bruce Cooley, who first moved with parents Ed and Elnora Cooley from Wisconsin to Salem. Bruce Cooley worked at Hoag Bros. Furniture in Salem before electing to move to Dallas and start his own business there.
"He liked the area," said Gary Cooley. "It was not too far to move, and it's the gateway to the Oregon beaches."
Cooley's Furniture first opened its doors in 1945 across the street from the Polk County Courthouse. At first, both furniture and appliances were sold.
Cooley's moved to its current location at 680 Main St. in 1961, first sharing the building with another business. They took over the whole site a few years later, knocking down a wall that divided the building in two.
A few years later, around 1970, the appliances were dropped, leaving Cooley's as a furniture-only outlet.
Other than that, little has changed. Gary and Loren Cooley still follow the tenets and practices they learned from their dad.
"We do what we say," Loren Cooley said. "We're competitive on pricing, and we offer free delivery with a 50-mile radius. That's something my father never gave up. We also have a good second-hand department, too. I've been here for 50 years, and hopefully the third generation can carry it on for another 50."
A lot of business have come and gone in Dallas in the past 60 years. Attention to detail as helped Cooley's persevere through six decades.
"The main thing is to just do what you say," Gary Cooley said. "You've got to take care of the nickel and dime things as well as the big things. Just keep things going smoothly and do what you say.
"If somebody needs a small part, you get it for them just like somebody with a large order. And be on time. If you tell people you're going to be there, then be there. With some people, you only get one shot, and you'd better make the most of it."
Over the years, the business became more than just a business. It became part of the family. Bruce Cooley just couldn't stay away, even after retiring. The wives of Gary (Carrol) and Loren (Mae) both have worked at the business.
"I worked with my father up until his last days," Gary Cooley said. "He liked to come into the store all the time. He sold it to me and my brother, and we're trying to keep it going as long as we can. We're trying to give good service. We're trying to compete with the other businesses. There's a little pride in there."
There is, of course, another dynamic to working for and with your relatives.
"In a family business, you sometime end up with three or four bosses," Loren Cooley said. "As I get older, I'm learning the less I say the better. Just do your job."
You can fake a lot of things in life. One thing you can't fake is a business with a 60-year record of success.
"They must be doing something right to have been here this long," David Cooley said. "I've learned a lot from both of them."
And will Cooley's be around another 60 years? Could David's son Christian, now 2, be the fourth generation of the family to ply his wares in Dallas?
"I doubt if I'll be here that long ... that'd make me 100 years old," David Cooley said. "But that's what I intend on doing if everything permits."
Cooley's Furniture is at 680 Main St. and its phone numer is 503-623-2577.