Wednesday, February 2, 2005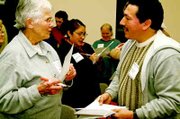 INDEPENDENCE -- Leonora Alvarez knows what she wants to ask. It just takes the native Spanish speaker a moment to decide how to phrase her question in English.
Jennifer Gates sits across from her inside the meeting room in the Independence Public Library, smiling and waiting patiently.
She had just finished telling Alvarez about her day care service. Alvarez, a mother of five, seems intrigued.
"So, you need, umm ..." she says, pausing briefly, "you need a license for your business?"
Gates nods, running through the certification process and other requirements.
"And who pays?" Alvarez asks. "The state pays?"
A bell rings, the signal for them to continue the conversation in Spanish. The two touch on everything from vacations to cooking tamales.
"I love the Spanish language," says later. At home, she tries to read books and listen to radio programs in Spanish. Unfortunately, she doesn't know anybody to converse with.
"I don't have that Spanish influence among my family or friends," she said.
said she'd like to speak Spanish more often. Meanwhile, Alvarez, a native of Michoacan, Mexico, has been trying to master English for nine years.
Both Independence residents rejoiced when they heard the library would host bilingual conversation gatherings twice a month.
Gates, Alvarez and about 35 other community members -- some who speak only English or Spanish, others who knew a little of both -- attended the first meeting on Jan. 25. The activity is coordinated by officials from the library and the Chemeketa Community College Literacy program.
"It seems like a good idea," Alvarez said in Spanish. "I know a lot of people who want to practice English."
Library officials created the club after hearing of similar programs at other libraries in Oregon, and receiving numerous inquiries from Spanish-speaking patrons about where to find free beginner English classes.
At last week's hour-long event, participants broke into small groups and talked about themselves, their jobs and other basic topics, half the time in English, the other in Spanish.
Learning a new language means practicing outside the classroom, said Linda Kaufmann, a volunteer literacy coordinator for Chemeketa who led the group discussion.
"In that structured format, you don't really have a chance to express yourself," she said. "Here, it doesn't matter if you're perfect in what you're trying to say, only that you get your point across.
She said she hoped the club would allow people to share their language and respective cultures in a laid-back setting.
"The idea is to make them feel comfortable with people from a different background," she said.
Everardo Reyes of Salem said he attended the first session to hone his English skills. Reyes is an employee at a small airport in Buena Vista, and said he feels he can read and write proficiently in English but that he isn't as confident in his speaking abilities.
Most of his co-workers converse only in Spanish, so he rarely puts his English to use outside of a few classes he takes.
"When you write, you have a little time to think about what you want to say," he said. "When you speak in the real world, you don't have time.
Reyes said he was planning on attending the next conversation club meeting.
"It was a good program," he said. "I think it has a lot of benefits for the people who want to learn Spanish and English."
The Independence Public Library will host the Bilingual Conversation Club at 6:30 p.m. the second and fourth Tuesdays of February and March.
A bilingual storytime and craft activity will take place in the children's area of the library for young family members while the conversation groups meet.
For more information: Debby DeSoer at 503-838-1811.