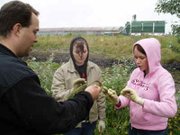 CUTLINES: John Roy, 16, pulls weeds on the banks of South Ash Creek as part of a summer jobs and education program. Charles Redon, watershed coordinator, shows Molly Agee (hair in eyes) and Tasha Pointer (pink sweatshirt) how to identify sedges and rushes. Photos by Gail Oberst
--
TEENS HELP CLEAN UP THEIR WATERSHEDS
POLK COUNTY -- John Roy, 16, of Pedee said he felt right at home pulling blackberries along the banks of Ash Creek's south fork last month.
Roy and about a dozen of his contemporaries were part of a crew who cleared invasive weeds and garbage from the creek around Independence's newest city park on F Street.
"I do a lot of this at my house, too," Roy said, expertly twisting briars around a pitchfork as if he were twirling spaghetti on a fork. "And there's a ton of it here."
The students are part of a watershed clean-up project that teaches teens work skills while they are removing invasive species that could crowd out native plants. Between June 20 and July 14, the teens worked at the Delbert Hunter Arboretum and at the park along Ash Creek, improved a riparian area in rural Monmouth, and in West Salem, pulled ivy out of a park.
But the students have been involved in more than just mindless weed-pulling, according Ben Palenske and Jenny Sisto, career coaches for the Polk County Help Achieving Lifelong Objectives (HALO) program.
Participants in the program get a stipend and high school credit while they are learning about the science and of healthy watersheds and riparian areas. The group is also learning how to work together, how to solve problems and communicate -- in short, how to be an employee.
As a light drizzle falls on the South Ash Creek park, Charles Redon, coordinator for the Luckiamute, Rickreall and Glenn-Gibson watershed councils, gathers the group of teens under the trees on the banks and instructs them on identifying their prey: He shows them the difference between native and invasive blackberries (natives are smaller, darker and low to the ground); shows them wild carrot and thistles, bindweed, morning glory; warns them about the rash-inducers such as poison oak, hemlock and hogweed; shows them how to identify the native snowberries, white alder, oak, ash and willow; teaches them that "sedges have edges and rushes are round."
"My job is to educate this group about the riparian zone, and provide transportation and tools they'll need," Redon said. Students handle and sniff the plants he shows them before returning to their work on Ash Creek.
The project, now in its second year, has been a real success both as a teaching tool and as a way to build confidence in teens who have never had a job before, Palenske said.
"This is better than working in an office and sitting on your butt," laughed Tasha Pointer, 16, of Dallas, who was pulling at weeds. Pointer also likes the fact that they get a half-credit toward high school graduation for their work.
On July 14 at the arboretum, participants were given their stipends, awards and a barbecue picnic to officially end the summer program.
The program's year-round staff is funded by the federal Work Force Investment Act, and the summer program stipends and supplies are funded by the OSU Extension Service's Youth Forest Education Program, according to Katherine Bartlett, project leader of the Polk Halo program.
In addition to funds, many other volunteers and agencies including Polk Soil and Water Conservation District, Luckiamute Watershed Council, the Arboretum and others have helped to make this project a success.
"We simply could not have done this without them," Bartlett said. "We had to all work together."