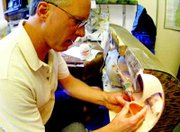 DALLAS -- Corey Zimmerman sits in a tiny windowed room not much bigger than a utility closet.
The wall to his right is covered with a topical map. The one to his left contains rows upon rows of small plastic tubs. The tubs are filled to overflowing with fake, flesh-toned, acrylic gums in various stages of creation.
Then there are the teeth: Teeth on little cards, like earrings on a jewelry stand.
Zimmerman's work space looks like a hybrid mix of Frankenstein's workshop and a master jewelers design bench.
"It's kind of like making jewelry, in a sense," Zimmerman said as he sanded and smoothed a disturbingly realistic tooth.
Zimmerman is a denturist. He's the only one in Polk County, and one of a limited number in the United States. He has been working in Dallas for about 10 years.
He learned his trade at a private denturists school, Oregon Denturists College in Gladstone.
The school closed when its founder died. Zimmerman and his class were the last students to graduate from it. Then he spent a few months learning through a sort of apprenticeship with a denturist in Salem.
After a year of that, he opened up shop in Dallas.
Denturitry is a profession that has been around since WWII, but it wasn't legal to practice in the United States until 20 years ago. In most states it still isn't.
Oregon is only one of a handful of states that allow licensed denturists to operate. Others include Idaho, Montana and Washington.
In a few more states -- Maine, Arizona and Colorado -- denturists can practice but only under the supervision of a licensed dentist, according to Stephen Barrett, M.D.
Barrett is noted for exposing what he considers "quack professions," and has an article on his web site about denturists.
Barrett's stance is typical among many in the dental profession. He doesn't hold that denturists are quacks or nonprofessionals, but he doesn't believe that denturists should be allowed to operate independently of a licensed dentist.
Traditionally, dentures were made in-house by dental assistants under the supervision of dentists.
According to Barrett and his proponents, this ensures that dental maladies other than the need for false teeth can be identified and treated.
Many dental professionals express concern that if denturists are allowed to operate without a dentist, patients with serious dental problems will go untreated.
Zimmerman finds this ridiculous. He said he works closely with a local dentist, Dr. Les Wheeler, and he treats only patients who have been referred to him or he knows are under the care of a dentist.
"I don't diagnose anything, I don't treat anything ... no implants or veneers. If it doesn't come out, I can't do it," Zimmerman said.
In Oregon, Zimmerman's profession is strictly regulated by the Oregon State Denturist Association, and he is required to attend "continual education" workshops to keep his license current. Just like any other medical professional.
The fight to legalize denturitry in this state was heated. The American Dental Association and the Oregon Board of dentistry ran a tough opposition campaign, but in the end Oregonians decided to allow denturists to practice.
So, why go to a denturist instead of getting bridges or dentures made by a dentist? One word: cost.
Denturists have a niche market and are able to provide false teeth at a lower rate than most dentists. This is good news for people on fixed incomes who are desperate for working teeth.
And though initially the Oregon Board of Dentistry opposed denturitry, things have not turned out to be as problematic as predicted.
"I know there was a lot of concern when the bill was first proposed, but I wasn't around then. However, I've been here for two years, and there hasn't been an issue," Oregon Board of Dentistry executive director Patrick Braatz said.
"They have their own governing board. We would hear about it if there had been complaints filed."
The bottom line, buying dentures from a skilled denturist is a cost effective way to get dentures and other removable dental prosthetics. However, it is still important to see a dentist on a regular basis.