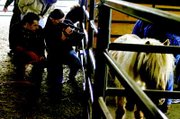 DALLAS -- Members of Jeff Baer's Dallas High School video production class have been working on a special side project.
DHS Senior Sandy Pippin has been working with Baer to develop and film a documentary about Peggy Guillen's nonprofit, Personal Ponies.
Guillen approached Baer, who has been teaching the journalism offshoot class for five years, at the beginning of the school year.
She wanted a promotional video that could explain her organization's goals to potential donors.
Baer agreed and asked for student volunteers.
"I was the only one that raised my hand," Pippin said.
Pippin, who plans to study nursing at Chemeketa next year, said she thought the video production class sounded like an interesting way to get some elective credit. She didn't anticipate it could turn into something she'd want to do as a lifelong hobby.
"The class has been a challenge, but I love the editing process -- and the people are hilarious," Pippin said.
She volunteered for the "Ponies" project, because it melded two of her real passions, video and horses.
Pippin has a horse of her own that she shows competitively. Making a video about ponies and differently abled children seemed a perfect project for the motivated teenager.
Pippin has spent at least an hour a day working on the project, either filming or capturing film. Baer will most likely do most of the editing. The experience she gained has taught her a great deal about media and hour communication works.
"We talk a lot about communication theory and how music and camera angles can affect the mood in a video. This is still a text-based class, not a technology class, though it relies heavily on both," Baer said.
The students use professional editing equipment. They're constructing a segmented monthly show that can be broadcast to the entire school.
"It's a great lesson for them on quality," Baer said.
If the show works, the students have something they can be proud to own. If it doesn't, there's no place to hide -- and the other students don't pull any punches.
Baer said the quality and quantity of work that his students produce varies every year. Some students, like Pippin, run with it. Some others just do the bare minimum.
Baer said he accepted the "Ponies" project as a way to bring the community into his classroom and to give motivated students something challenging to work on.
"It's been a great experience for the kids and great exposure for the high school," he said.