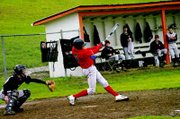 INDEPENDENCE -- Central's Justin Reynolds recently was drafted by the Atlanta Braves in the 24th round of the Major League draft.
But Reynolds is not going to sign with Atlanta. Not yet, anyway.
"They want to do a draft-and-follow," Reynolds said. "I'm going to go to Mt. Hood College, and they still have the right to sign me until May 31 (2006), the week before the next draft.
"I think it's a good situation for me. I can improve myself and get better and work on the things they want me to. It could turn out to be really good."
Reynolds will have plenty of options, depending on how is season at Mt. Hood goes. He could sign with the Braves if the offer is right, or he could go back into the next draft. He also could go back to Mt. Hood for another season or perhaps look at moving to a larger college.
In the meantime, though, Reynolds will focus on fine-tuning his batting stroke.
"I kind of have a little uppercut, and they want me to be really quick to the ball," he said. "They just really want to see me play. They only saw me three times compared to a lot of other teams who saw me a lot."
Getting selected by Atlanta, even in the 24th round, has to be viewed as something of a compliment. Few if any teams in baseball have scouted, drafted or developed players better than the Braves in the past 10-15 years.
"They have a really good rookie ball program," Reynolds said. "They develop their players really well. I feel pretty lucky."
Reynolds starred in basketball and baseball at Central. Even in baseball his attention was somewhat divided as he split his time between pitching and playing outfield.
"My plan is to just play baseball every day," Reynolds said. "I've been playing two sports, and now I just want to get better and focus on one thing. Hopefully, I can sign next year and go play."
Reynolds was expected to be the Panthers' No. 1 pitcher this past season but suffered a shoulder injury in the team's last basketball game. He later was able to serve as a designated hitter and play in the outfield but never pitched. Reynolds, though, seems unfazed that his pitching days likely are finished.
"I like hitting," he said. "That's what I do best. It's unfortunate it had to happen, but things still work out. It should be really good. I'll be thinking about baseball all day every day, and my skills should progress."