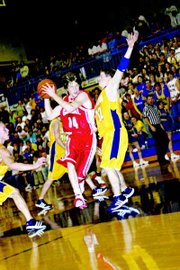 Shortly after Pennie Freeburg left Valsetz School District in 1985, the school --and the town --closed down.
When she left the old Campus Elementary School in Monmouth in 1986, that institution ceased operation.
Those are simply signs of how important Freeburg, a teacher at Independence Elementary School, is to education, said colleague Wendy Bemrose.
"She's so valuabe," Bemrose joked, "they had to shut down the schools."
Freeburg has been an integral part of IES since 1986. She and other instructors set up the school's Guided Language Acquisition and Design (GLAD) program, a teaching model that uses pictures, songs and other activities to help native Spanish speakers develop their English skills.
Freeburg trains new staff members at IES, and also teaches sign language to students participating in Project Primetime, Central's after-school program.
She also helped found a students-tutoring-students program, where her fourth graders assist Kindergarteners with their classwork.
"They make me love coming to work every day," Freeburg said of her students.
* * *
Central School District has been a constant in Bridget Weldon-Ott's life.
She attended elementary, middle and high school in Independence. Her father and mother were district employees. After earning her education degree at Western Oregon University, she returned to her old stomping grounds.
"I go into work each day," said Weldon-Ott, a teacher at Talmadge Middle School and the Secondary Teacher of the Year winner, "and hope that the kids look back as fondly at the experience there as I do."
Talmadge colleague Suzie Hahn said Weldon-Ott is known as 'the cool teacher' at school, with a knack for forging a strong bond with her students.
She's also a person "who doesn't know how not to get involved," Hahn quipped.
Weldon-Ott and her students often brainstorm projects, such as a read-a-thon last year which raised money for Doernbecher Children's Hospital.
She's an active member of the teachers' union and the district curriculum council, and when she's not behind her desk, is a coach for the Talmadge girls basketball team.
At 27, Weldon-Ott is also the youngest person in the state to have received her administrative license in education.