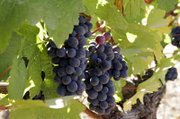 POLK COUNTY -- Peak season is winding down at area vineyards and wineries. After the first rain hit, it was a mad dash to get the grapes in from the fields.
"For five or six days it's just a swarm over the fields," said Chris Luby, the head winemaker at Cherry Hill Winery.
Modern winemaking is an odd alchemy of tradition and cutting-edge chemistry. Much of Ludy's work is done in the lab, not the wine room.
But when fall rolls in and the misty rain returns, the winery's hill teems with Ludy, his staff and dozens of seasonal workers.
"We start before dawn and usually work through the morning, before it gets too hot. Some varieties of grape are very sensitive to temperature," Namasté Vineyards co-owner Dave Masciorini, said.
Wine grapes are sensitive buggers, and just a day too long on the vine can completely alter the final outcome.
In the months leading up to harvest, winemakers are constantly testing their grapes. They'll crushing one or two and then measure the acid and sugar levels. On the magical morning when the grapes are at their peak, the "go button" is pushed and the harvest begins.
Most vineyards in the Eola Hills (the winemaking area around Dallas) produce some of the top Pinot Noirs in the country. They have been awarded and recognized as rivaling the Napa Valley and French Vineyards, though the local industry is only a few decades old.
People from across the country have been drawn to Oregon's burgeoning wine country, and wine enthusiasts are taking notice.
Cherry Hill Vineyards is owned by Mike and Jan Sweeney, who live part of the year in one of the guest cabins at Cherry Hill and another part at Carmel, Indiana (where they are originally from).
The Sweeneys fell in love with wine decades ago and traveled through France to explore the various tastes of that country. While on one of those expeditions, a couple they met told them about the beautiful wine country blossoming in Oregon.
Cherry Hill is a 150-acre estate, with about 55 of those acres planted in Pommard and Dijon clones of the Pinot Noir grape.
Namasté Vineyards, off Highway 22, is one of the newest vineyards in the Eola Hills, but happens to have some of the oldest vines.
Masciorini and his co-owners, Sonia and Chris Miller, all harken from California's Napa Valley. About five years ago, Masciorini and Chris left lucrative jobs in the corporate world to find a more balanced life.
Unable to buy into the ridiculously expensive Napa Region, they headed north and sought land they could plant. What they found was acreage that had been planted on a whim by a retired airline pilot.
"We new the minute we turned onto the road that we had found the place," Masciorini said.
The two men made an offer that day, and have never looked back. Like the Sweeneys, they followed their love of wine and need for peace to the Willamette Valley.
Namasté Vineyards isn't as far along in its development as Cherry Hill. They are not yet a winery (meaning they don't crush, bottle and age wine on site). One day they hope to replace their Foster Farm's Chicken Coops with a unique Northwest winery.
Until then, the chickens keep the winery going, as do wine tastings.
They sold out of their first vintage (bottled and aged at Chateau Bianca, another local winery).
Such cooperation is typical of the camaraderie that permeates the wine industry in this area. Many bigger wineries, like Cherry Hill and Chateau Bianca, do custom crushes for the smaller vineyards that are just starting out.
What results is a small community of wine lovers carrying on an ancient tradition.
--
Cherry Hill Winery, 503-623-7867, www.cherryhillwinery.com. Namasté Vineyards, 503-623-4150, www.namastevineyards.com. They offer tours and tastings, as do most wineries in the Willamette Valley.