Wednesday, October 26, 2005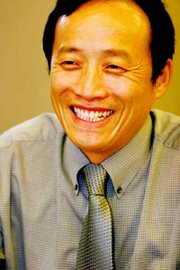 MONMOUTH -- Neng Chiang Yang wasn't a typical college student when he came to the United States from his native China during the early 1990s.
He had a college degree, had worked as an art professor for nearly a decade, and had helped found the art department at Huaibei Teachers College.
Despite those accomplishments, stepping out of the terminal at Los Angeles International Airport overwhelmed him the way it would any first-time student from abroad.
"I was amazed at the wealth of the country ... and the number of cars" he said.
"Everybody here seemed rich. At the university I attended, there were only three cars on the entire campus."
Yang, 48, was hired this summer as Western's new director of international students and scholars affairs. He is charged with the recruitment of potential international students to WOU, and will spend about three months out of the school year traveling to different countries and states in an effort to lure more students to Western.
He'll also serve as an advisor for the school's international students and will communicate their needs to the rest of campus.
"I was and am an international student myself," said Yang, who is pursuing a doctorage in instructional technology from Ohio University. "I have an insight into what they go through and what their concerns are."
Yang was born and raised in the city of Wuhan, about 450 miles west of Shanghai. He has worked in international student admissions at several colleges since the early 1990s.
His original passion, however, was the romantic and representational art of Ferdinand DeLacroix and other painters of the 18th century.
An accomplished oil painter, Yang studied at the China Academy of Fine Arts, worked as an instructor at the school for a decade after graduating.
He came to the United States and earned a master's degree at Morehead College in Kentucky, and a masters of fine arts at Indiana State University.
He put his painting on hold, however, once he became involved in those school's international education programs.
"I began to enjoy it, getting the chance to meet and work with a lot of different people," he said. "And, of course, getting to travel is enjoyable."
WOU Interim President John Minahan said Yang possesses the sort of contacts abroad that will help boost the college's international enrollment.
At it's high point, Western has had as many as 125 international students.
"Like every school, those numbers have fallen since 9-11," Minahan said. About 60 students from abroad are taking classes at WOU this year.
Yang said the strigent regulations of the federal government in obtaining student visas between 2001 and 2003 may have been the most critical factor in the decline of international students at universities nationwide.
The lack of a comprehensive recruitment plan at Western during the past couple of years may have also affected the college, Yang said.
Getting more students from other countries is seen as a critical component of WOU's overall focus on increased student enrollment. Yang said his goal is to increase the international student total to about 250 within the next three years.
"The new administration here sees this as an issue of much urgency," Yang said.
Though only a fraction of the entire population at Western, more international students would enhance the university's appeal and benefit the school financially, Yang said.
International students pay about $14,000 a year in tuition, nearly three times the amount of an in-state undergraduate. For every 100 students with self-paid tuition, the college would gain about $1 million.
Yang said he's already off to a good start. During a trip to Washington D.C. in September, he reached an agreement with the Saudi Embassy in which 25 Saudi students would be sent to Western for each of the next five years.
Yang said the key to his job is contacts with university administrators and government officials, who facilitate recruitment for or send students to America for college.
Just as important is being able to connect with the parents of students.
"The parents are interested in the safety and personality of the community," Yang said. "Students are more concerned with whether or not there are adequate support services on campus."
"Then it's usually what kind of shopping or traveling opportunities there are."
Most of Western's foreign students hail from Japan or Korea, with the remainder from African or European countries.
Despite the sometimes critical world view of the United States, students want to come to study here, Yang said.
"The United States has the most advanced education system in the world, they're leaders in technology and business ... this is where most of the wealth is," he said.