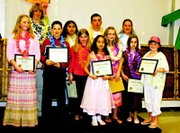 MONMOUTH -- Twelve students from schools in the Monmouth-Independence area -- from Henry Hill Elementary School to Western Oregon University -- were nominated by their teachers as Student Citizens, and honored at the Communinity Award banquet last week.
They are:
* Catherine Cutsforth, fourth grade, Henry Hill Elementary. Cutsforth is a kindergarten helper and mentor, a classroom officer and assists in the school's bookstore in the mornings.
* Jaime Smithey, fourth grade, Independence Elementary School. "She is a very kind, responsible person who is always willing to help other students and adults," said Jan Burks, IES principle.
* Jasmine Orozco, fourth grade, Monmouth Elementary School. "Jasmine is a positive leader," said MES principal Rick McFarland. "She respectfully directs other students ... her citizenship skills are exemplary."
* Rylie Gaither-Lyell, first grade, Bridgeport School. "Rylie is always willing to chear up other students when they are down," said Susan Craig, Bridgeport teacher. "And she can always be counted upon to help when it is needed.
* Emily Webb, fifth grade, Luckiamute Valley Charter School. "Emily demonstrates a love of learning with her positive outlook and delightful sense of humor," said Luckiamute teacher Jen Andersen. And, "She has a perfect homework record."
* Emma Miller, Ash Creek Intermediate School. Miller is a choir and band member, is involved in many 4-H clubs, and owns her own egg-selling business.
* Dean Dunmire, Ash Creek Intermediate School. Dunmire is a straight-A student who participates in band, chess club and is church youth activities. He also runs a vending-machine business.
* Alex King, eighth grade, Talmadge Middle School. "Alex is a leader who has demonstrated success in academics and athletics," said Talmadge principal Beau Horn. "He is a conceptual and strategic thinker who has much to contribute to class discussions."
* Andrea Nunez, eigth grade, Talmadge Middle School. "Andrea is a quiet leader who leads by example," Horn said. "She is friendly to peers and adults and is the kind of positive role model teachers can be proud of."
* Sam Thompson, senior, Central High School.
Thompson is captain of the varsity football team, an academic all-star, a volunteer docent at the Jensen Arctic Museum, and a lunch buddy at Ash Creek Intermediate School.
* Hannah Flaming, senior, Mid-Valley Christian Academy. Hannah has a nearly 4.0 grade average, is a National Merit Commended Scholar, and volunteers as a tutor for her classmates.
* Sarita Winterrowd-Lundin, senior, Western Oregon University. A sociology major at Western, she is an advocate for tenant rights in the community and a longtime volunteer for the Montana Muscular Dystrophy Association.