Wednesday, April 12, 2006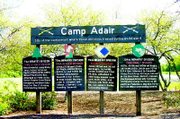 ADAIR VILLAGE -- The Army Corps of Engineers plans to inspect the former Camp Adair military site for hazardous waste and old ordnance beginning in July.
The work will be part of a Formerly Used Defense Sites (FUDS) evaluation program ordered by the federal government.
It will be a major undertaking. Camp Adair, built in 1942, covered 50,000 acres in Benton and Polk Counties, stretching from Highway 99W on the west side to the Willamette River on the east. During World War II, the bustling camp was the second-largest community in Oregon and had its own railroad station.
Much of the area is now the E.E. Wilson Wildlife Refuge and a large Benton County park. Some of it is farm and range land, and some of it is the community of Adair Village, which includes old and new housing developments and Santiam Christian School.
Four divisions of Army infantry trained at Adair between 1942 and 1944, preparing tens of thousands of soldiers for action in Europe and North Africa. In 1945, part of the camp was used for incarceration of German and Italian prisoners of war.
The Army base was decommissioned in 1946 and almost all evidence of it is gone. An adjacent Air Force station on the site of what is now Adair Village remained in use into the 1960s before federal budget cuts eliminated it. Some of the old buildings can still be seen from 99W.
The Corps of Engineers will be looking for any remaining toxic or radioactive waste that may have been left behind in the buildings, which included a large hospital, and in the surrounding land. Water and soil samples will be taken and whatever cleanup is needed to comply with federal and state environmental laws will be done.
The Corps will also look for old ordnance (artillery shells, rockets and bombs) that may have become buried. Finding such items is not uncommon on former military sites.
The inspection will entail engineers seeking permission for access from private property owners. A meeting was held last week at Santiam Christian School to explain the procedures that will be followed.
The inspection and cleanup is expected to take three months. A report is due in October.
For more information, see NEWS LINKS at www.itemizerobserver.com.