Wednesday, February 8, 2006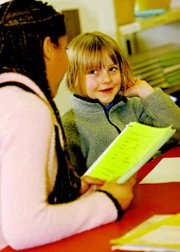 INDEPENDENCE -- Henry Hill Elementary School student Lily Gallagher turns to the first page of her textbook and begins to read aloud.
"You have a bad cold today," the first-grader orates, a pause between each word. "You cannot go to school."
She comes to a halt as she struggles to pronounce "tomorrow," and looks to Angel Pratt, her audience of one, for help.
"Try again," Pratt encourages. "To ... "
"To-mor-row" Gallagher
says, smiling.
A Central High School senior with aspirations of teaching, Pratt has been tutoring Gallagher with her reading. The only stumbling blocks she has encountered has been her young student reading too fast.
"She's had amazing growth," Pratt says, noting that Gallagher recently tested into a higher reading level. "I don't know how much longer I'll need to tutor her."
For the past month, Pratt and about 12 of her Central High peers have spent their lunch periods volunteering for Henry Hill's reading program.
For an hour a day, three times a week, the teens work one-on-one with young students -- including native Spanish speakers -- in need of extra help.
"We can review in class, but to have somebody listen to them read, hear them sound out words and correct them when necessary," said Kay Graven, Henry Hill's Title I teacher, "is invaluable.
"It helps students to have that somebody who can be thrilled with their progress."
Graven said the two-year old tutoring partnership started because the elementary school needed assistance with its Spanish-speaking population.
Almost 42 percent of those enrolled in Henry Hill are native Spanish speakers.
Officials began advertising to and recruiting high school teens with Spanish skills to assist English-Second Language students with homework and translate for local Latino families during parent-teacher conferences.
Nora Alvarez, a Central High sophomore, attended Henry Hill after family moved to Oregon from the Mexican state of
Michoacan. The 16-year-old tutors students in English and Spanish
"I though this was a good way to help kids," she said. "I know what they're going through, because I couldn't speak English when I got here."
When Henry Hill started a school-wide literacy program, which requires students to do 90-minutes of reading-related activities each day, officials found themselves lacking tutors for those children who underperformed.
Graven and others eventually decided to expand the tutoring to all students.
Now, the high school students, along with Western Oregon University students and community volunteers, work weekly with almost 100 kids reading stories and doing spelling exercises.
The tutors track their performance and report to the youngsters' homeroom teachers. Graven said that the school's state reading scores have improved during the past three years, and that the one-on-one help has played a part in the success.
"The teachers like it because it supports what they're doing in the classroom," she said.
The high school students receive letters of recommendation in return for their efforts, though many are doing it for the experience alone.
"This has given me insight," Pratt said. "I can appreciate what the teachers who I've had go through...they want to see you do your best and I want to help these kids do the same thing."
Molly Mack, another sophomore, said she gets her enjoyment from watching one of her charges, first-grader Anthony Hilliard improve his reading skills from one week to the next.
"He used to just guess on some words," Mack said. "Today, he started sounding them out, you could see how much he's improved."
Community members interested in volunteering as reading tutors are encouraged to contact Kay Graven at Henry Hill Elementary. For more information: 503-606-3210.