Wednesday, February 8, 2006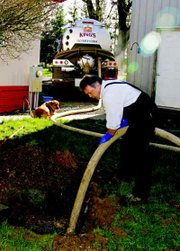 POLK COUNTY -- Polk County is a rural area, and many residents have septic tanks for their waste.
And some of those tanks have been struggling lately with this winter's high water table. According to Robb Barnes, owner of King's Pumping in Dallas, 80 to 85 percent of the calls he has received in the last month have been related to flooding.
" A septic tank is always full of water. The problem comes when the absorption field becomes too saturated," Barnes said.
"In a standard septic tank, the water goes out through a series of pipes and then evaporates out through the soil. If the ground is saturated, or the pores in the pipes become clogged because the ground is too packed down, eventually the water will go to the place of least resistant, which is usually the lowest point in the house -- like a shower."
Excess water building up in the septic system's drain field almost always leads to problems, Barnes said. He's been seeing examples of that for the past month, and it's costing everyone money.
"We've been fighting ground water. I've been back out to people's houses two or three times in a week. And there is nothing I can do for them."
Last Friday, Barnes was in Falls City. A woman had been having trouble with her system. It was backing up into her showers and sinks. Barnes arrived and started pumping -- and he filled his truck.
"It was a 1,000-gallon tank. I pumped 6,000 gallons out of it, and the stuff was still coming when I left. I'll probably be out there again in a week."
Another customer dug a hole about 10 feet from the end of his drain fiele, sank a metal garbage can with holes into it and started pumping ground water out of the soil and into the ditch.
"It's not contaminated water or anything -- it's just ground water," Barnes said. "It's the only thing he can do until he can redo the system."
Most likely that customer will opt for a cap and fill -- a system that gets drain pipes above the water table. Excavators will plow a large, rectangular section of land, then they will create a mound in the center. They then bury the lines in the mound, creating a little hill. Sometimes sand is used for better filtration.
Then they will fence it off so no one walks on it. It's important that the ground above a septic line not become packed down. It needs to remain porous.
Barnes said cap and fill systems are spendy, but they're a fairly sure way to fix the flooding problem.
He also said that if someone is building a new home that requires a septic system, it is important to test the soil during the rainy months -- October through April.
"If you look at a site where you're going to have equally distributed holes, you need to look at the test holes during the rainy season, not in the summer ... because they are going to be fine in the summer."
That may seem obvious, but Barnes said that often when the county tests the soil on a site, they do it during the summer months. As a result a number of homes in an area may be built on flat ground with standard septic systems when they should have had a different setup.
Another septic system expert, Glenn Wiensz of Applegate Excavating, said most of the failures he sees aren't from high water -- they're from lack of maintenance.
"In Oregon we're pretty familiar with rain and soil saturation and how to adjust for it," he said. He allowed that in some instances a standard septic system can have problems if the water table gets abnormally high or animals are allowed to graze over the absorption field.
But the main recipe for disaster is just not paying attention to a normal schedule of waste removal from the tank.
Barnes agreed. He said the typical four-person home with a 1,000-gallon tank needs that tank to be pumped out every 2.6 years on average. If there is a garbage disposal in use in the home, then it should be about every 18 months.
Wiensz said that normally, with proper maintenance, the standard system works for most sites, even on flat land. This has just been an unusual year.
For more information: The Oregon State Extension office has lots of information on the proper way to care for a septic system. Polk County'z Extension Office is located at 182 SW Academy, Suite 222, in Dallas (503-623-8395).