Wednesday, February 22, 2006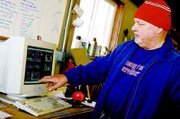 "There are seven or eight categories of phenomena in the world that are worth talking about, and one of them is the weather."
Annie Dillard, poet and author
--
MONMOUTH -- Some of the first records man kept were about the weather. Archaeologists have found written accounts of crop cycles and weather patterns that precede Christ.
Weather awes us. It hints at a mystic power. It holds total dominance above the world.
Logic dictates that farmers -- people who make their living directly from nature -- would be most concerned about the weather. And indeed, it has been farmers (and their organizations) who've kept the best weather records.
Long before the national weather service existed, farmers were measuring rainfall, wind speed, air pressure and temperature to predict their future crop yields.
Tom Johns and his son, Elliot, are continuing that tradition.
South of Monmouth, off Airlie Road, and up a paved drive is Emerson Vineyards and the Polk County weather trackers for Weatherunderground.com.
Weatherunderground is one of a dozen or more online weather records sites that amateur meteorologists can collect statistics for.
Weather watchers buy their own software and sensors, then subscribe to an online server (like weatherunderground) where their sensors can automatically download and chart weather trends for the general public to view.
Johns said that it was his son's idea. Back in 2001 when Johns and his wife bought their property it was the site of a semi-truck stripping company. The 127 acres weren't being used.
But the younger Johns saw a potential vineyard.
"Elliot is the brains of the operation," Johns said. He graduated from OSU's viticulture school. I'm just the muscle."
Soon after Elliot graduated, he convinced his parents that moving back to Oregon (from California), buying property in Polk County and planting Pinot grapes on a warm hillside would be a great way to spend their golden years.
They made the move in 2001. They spent the better part of last year remodeling their 1950s house.
"We lived in a trailer most of last year," Johns said. "We've turned the back part of the house into what will be our tasting room."
They also built a huge deck off of their shop and will one day hold concerts near their pond under the scrub oaks.
"On a clear day you can see the mountains in the east; what a perfect backdrop. Don't you think?"
Johns and Elliot decided to track the weather in their little nook, because weather has such a huge impact not only on the yield of a vine, but also on the quality of the grape.
"The other reason we got the weather station -- we are looking for ways to reduce our electric bill," Johns said.
"We hope to convert, at least partly, to wind or solar power. The sensors can tell us if we get enough wind for that."
Johns hopes that by keeping detailed records, he and Elliot will be able to chart the variables that had the greatest effects on a given estate vintage -- once they have an estate vintage.
Emerson Vineyard was just planted in 2001. It can take 5 to 6 years for grapevines to produce to capacity. In the meantime, Johns and Elliot are buying grapes from California and a local vineyard in Buena Vista.
This last fall was their first harvest and press, they currently have more than a dozen barrels filled with aging red wine. They'll bottle it next year, but they're ready for a taste now and then.
Oak barrels can vastly diversify the taste of the same grapes. Emerson's barrels are no different, and each one will create its own unique vintage.
Johns spent most of his professional career as a lab manager, so making the shift to vineyard manager wasn't too much of a stretch. He seems ambivalent about his new career as he siphons wine from the barrel for a taste test.
He's not sure what the future will hold for his little L-shaped strip of land, but he looks forward to the experience.
--
To see the ever-changing information from the Johns' weather station, go to www.weatherunderground.com and type in zip code 97361 in the "go" box. The Emerson Vineyards data is listed at the bottom of the screen under "Personal Weather Stations."