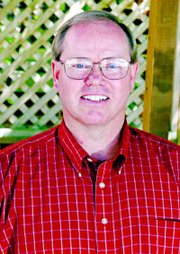 Austin takes director's
job at charter school
DALLAS -- Twenty-six years in middle school education is part of the background Dan Austin is bringing to his new post as Executive Director of Luckiamute Valley Charter Schools.
"There are 66 charter schools in Oregon. My goal is for Luckiamute Valley to be the best," he exclaims. To that end he adds, "We're going to initiate a program of differentiated instruction."
He adds that the first step in that program is getting to know the skills, background, interests, intellect and personal likes and dislikes of each of the 100 or so students in the kindergarten through eighth grade program.
"My goal with the staff is to build relationships - not to be the 'answer man' but to find out what it is we need to do to get better." Austin adds, "The staff is very dedicated -- and well-educated."
"We want to offer the kind of program that will draw students -- a safe, small environment where the education is state of the art."
The new executive director, who will begin full-time duties Aug. 1, notes that "There will be an emphasis on math and science."
Austin had kind words for what he calls "A very active, very supportive community with a tradition of support" for schools He said he looks forward to "the new challenge and greater diversity of leading a kindergarten through middle school program."
Austin has been assistant principal at LaCreole Middle School the past four years. His background in education has included other administrative posts at that level in St. Helens and Pendleton.
Before joining the administrative ranks, the 1978 graduate of Oregon College of Education (now Western Oregon University) taught math at the high school and middle school levels in Fossil, Brookings and St.Helens.
Austin and his wife, Elaine, raised six sons and make their home in Dallas.
--
LVCS budgets for 100 students
BRIDGEPORT/PEDEE - The 2006-07 budget for Luckiamute Valley Charter School shows an operating budget of $570,660 to educate 95 first through eighth graders and 10 kindergarteners.
A significant addition to the budget this year is a full-time custodian position relieving the schools' dependence on parents and other volunteers to do custodial work at the Bridgeport and Pedee campuses.
The charter school's treasurer, Matt Beasley, said "The parents got us through the last year, but it's time we go back to having a full-time custodian."
The budget calls for five full-time teaching positions filled by seven teachers and two educational assistants or aides. In addition there will be an executive director (see story on this page) with one and a half staff assistants.
LVCS Board Chair Fred Weisensee reported that the site review conducted by the Dallas School District was helpful in guiding the budget's priorities. Funding for a limited amount of classroom supplies as well as a separate stipend amount to fund some art education are included.
The budget shows an operating contingency of some $44,000. It starts the year with a $60,000 carryover from the 2005-06 year.
Funding for the school's program is almost entirely based on the state school support granted each full-time student. Ninety percent of that money, or approximately $5,000 per student, goes to LVCS. State law requires that charter schools at the elementary and middle school level receive at least 80 percent of the state school support. The Dallas District board has twice increased the percentage granted LVCS to reach the 90 percent level.