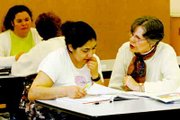 POLK COUNTY -- Every Tuesday and Thursday afternoon the cafeteria in Independence Elementary School is teeming with adults learning to read and speak English. It's the group tutoring session offered by Chemeketa's Adult Literacy Program, Polk County branch.
For more than 20 years -- the past 14 under the guidance of Linda Kaufmann -- the Polk Adult Literacy program has been helping adults learn to read and write.
Each adult volunteer tutor is given curricula and is paired with another adult who is trying to master the seemingly impossible grammar and syntax of the English language.
"Volunteer tutors work with anyone who has literacy needs," Kaufmann said. "We have native and non-native speakers using our services."
Volunteers spend about three hours a week tutoring. Those sessions are split into roughly 90-minute sessions. Most tutors and students meet one-on-one, but for people who feel more comfortable in a large group setting or need day-care for small children, the twice-weekly sessions at IES are perfect.
"It really depends on the needs of the student," Kaufmann said.
The program is an offshoot of the Adult Basic Education and English As a Second Language classes at Chemeketa's main campus. They're aimed at making it possible for immigrants and illiterate native speakers to gain the skills they need to function in mainstream society.
"I usually don't have a scarcity of students," Kaufmann said.
"I am more likely to have a waiting list of students than a waiting list of volunteers," Kaufmann said.
On a quarterly basis, potential volunteers are invited to an orientation (the next one will be 6 p.m. on Thursday, March 30, at the Monmouth Public Library).
The orientations are informational only, and don't constitute a commitment on the volunteer's part. They are meant to help people decide if literacy tutoring is the right volunteer work for them.
Once a person decides to become a tutor, there are two required two training sessions held on consecutive Saturdays from 9 a.m. to 4 p.m. at Chemeketa's main campus in Salem. After that, volunteers are paired with students and are allowed to schedule twice-weekly tutoring sessions around their own schedules.
Some tutors meet with students in home, some at coffee shops, some at the library -- any place that is mutually acceptable.
Kaufmann provides the curricula and is available to answer questions. She said she works very hard to pair compatible people. She wants student and tutor to feel comfortable.
A student's success is due in large part to the relationship established with the tutors. Some pairs, like Rebeca Saavedra and Bee Miner, have been meeting for a few years and have developed a rapport. Miner has been coming to Saavedra's' home for more than two years.
The women sit in Saavedra's quiet, sun-filled kitchen and discuss their lives, the curricula -- and how they both came to live in Dallas.
Miner is Belgian. She laughs at her French accent. She and Saavedra both find it amusing that part of what Miner is supposed to teach is pronunciation.
"You know, a French accent -- you don't lose it," she said, and laughed.
"Sometimes I have to bring my granddaughter with me to help me with the pronunciation. I'll tell her to pronounce the word, and then Rebeca will repeat it. But, most of the time we muddle through together."
Miner has been in the United States most of her life. She moved here when she was 16 years old. Her father was American, her mother Belgian. She is somewhere in between.
She speaks perfect English, but she is right -- her French accent is noticeable.
But pronunciation is only a small part of what the program is about. It's more important to practice speaking and writing, to learn to comprehend the language fully.
The accents will never fad completely. Saavedra will always have a Spanish flourish in her 'r's and vowels, but she can communicate. She can write.
"She's quite a good writer, actually," Miner said.
"She writes beautiful stories. It's wonderful to see her writing improve."
Saavedra is modest about her accomplishment. She has lived in the United States for 16 years. Her children all grew up here.
"I came for the dream," she said. "My husband and I both came here for the dream."
The dream: A better life for their children, steady work and opportunity.
Saavedra speaks of her native city, Puerto Vallarta, with a homesick sigh. She calls it My Beautiful Puerto Vallarta. She would return in a moment if she thought her children would have the same educational opportunities they have in the United States.
But they wouldn't. So she stays. Her oldest boys are in high school. One will graduate in the next few years.
"He works hard," she said.
"He gets good grades. He wants a career. He doesn't want to work like his father and I worked. He wants more. I am very proud of my children."
Saavedra learned English because she had to, but she speaks Spanish to her children at home.
"I want them to be bilingual. It will give them more opportunities when they grow."
The Adult Literacy Program worked for Saavedra. She had small children to care for. She needed the English but couldn't leave her children to attend classes, so the classes came to her.
Others, like George, Alexander, Yolanda and Salvador, meet in large groups and their tutors come and go. Their groups meet at IES twice a week. They come as they are able, and the group is run more like a classroom.
There is little pressure, however. Students get out of the program what they are willing to put into it. They may come for a few months, then quit to work -- and then return. The program is always waiting for them when they can come back.
For more information: Polk/Yamhill Literacy Program, Linda Kaufmann, 503-316-3282, or kaul@chemeketa.edu