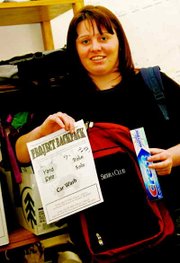 MONMOUTH -- About 5,000 individuals released from Marion County Jail each year leave with no place to go, according to a study by the Center on Juvenile and Criminal Justice (CJCJ) regional office at Western Oregon University.
Rebecca Ambrose and her fellow criminal justice students spent three months conducting interviews and focus groups with inmates last summer for the report.
She said they wondered if encouragement and a few supplies would be incentive enough for some people to find a way off the streets, which would in turn improve their chances of escaping lives of crime.
One woman she interviewed had been jailed for assault, and had a history of drug issues. During a follow-up meeting after the woman's release, Ambrose learned she had worn the same clothes for 21 days because she couldn't legally return home.
The students gave the woman a backpack with a few supplies and information about public assistance. The woman cried, Ambrose said.
"She said "You don't know how much this will help,'" Ambrose said. "It was a starting point."
The dozen Western students are now spearheading a transition program for homeless Marion inmates called Project Backpack.
The goal? Give each person, upon release, a pack filled with hygiene products, stationery and first aid supplies. It will also include vouchers for clothing, and social and medical service resources.
Ambrose estimates the annual cost of the project at $90,000 -- about $16 per stocked backpack. She and the other students have spearheaded supply drives on campus and plan to apply for grant funding.
But what they really need is to find business partners within the community that can make this an ongoing project, she said.
"We want to give out 5,000 backpacks a year," Ambrose said.
"It's a crime-prevention strategy. Most of the time, society blocks them out ... and if basic needs aren't being met, people will resort to survival tactics."
Ambrose said CJCJ and Marion County tentatively plan to begin distributing backpacks this October.
The project was borne from a study performed by William Brown, a professor and head of the regional CJCJ office, and his students on a contract for the Marion County Children of Incarcerated Parents Initiative.
The group surveyed 442 inmates from the jail to discern drug use among the genders, races and ages. It also focused on the other socioeconomic data, from education level to housing.
About 58 percent of the respondents identified themselves as being homeless or having been homeless at some point. More than 73 percent were parents.
Homelessness is a big factor in crime, Brown said. Interviews with inmates revealed that many drug users clean up while in jail but without a place to go upon release they are drawn to the company of other addicts.
With felony convictions on their record, most become ineligible for housing or even a job, Brown said.
"Once you get that conviction, it's a very rare person that can escape that life sentence," Brown said.
The daily cost to keep somebody jailed in Marion County (roughly $75) is one reason why addressing homelessness is important. "It's an expensive motel room that taxpayers foot the bill for," Brown said.
Ambrose said she and the other CJCJ students asked inmates what items would be helpful upon release. Most asked for hygiene products, clean clothes and phone cards.
Ambrose believes the most important addition will be a pocket-size directory with a list of public agencies and referral services.
"We're making contacts with organizations, and finding a way to expedite the process of connecting people with these groups for assistance," Brown said.
Brown stresses that while he designed the initial study for Marion County, the project is the brainchild of his students.
"I've never been more proud of a group of students in my 15 years of teaching than I am now," he said.
--
(Please put in a gray box)
Students associated with the Center on Juvenile and Criminal Justice will host a combination car wash, bake sale and yard sale Sunday, May 28, at the Shop'n'Kart in Woodburn at 1542 Mt. Hood Ave. It will run from 11 a.m. to 4 p.m. All proceeds will go to Project Backpack. Donations are tax deductible. For more information: 503-838-8912.