Tuesday, October 10, 2006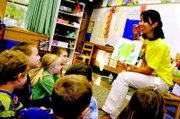 DALLAS -- Nitiporn Siripon grew up in a small village with a big name: Bannongklonghuakua, in Kutrang province, Thailand. Nitiporn, or "Jo", as the kindergarteners at Lyle Elementary call her, is a foreign exchange teacher with the AFS International Teacher Exchange.
She is one of two teachers in the Dallas school system who are sharing their culture with, and learning about American culture from area elementary students.
Nitiporn, 31, is the youngest of three children. Her sister is a teacher at Ratjabhat University and her brother is a lawyer in Bangkok.
She's a self-taught English student and has a degree in computer technology and education. Home in Thailand, she teaches fourth graders about computers at the same school where her father has worked for more than 40 years.
Her father is now the principal of Bankutrang Primary School and her mother owns the town grocery. They all live in apartments above her mother's store.
Nitiporn said that she has been teaching herself English since she was young and when she returns, she hopes to teach her students what she has learned during her nine-month stay in Dallas.
"When I get back I will teach English because my school doesn't have an English teacher," she said.
Unlike, Xu Pingbo, the Chinese exchange teacher at Whitworth, Nitiporn comes from a much smaller community than Dallas. The first school she ever taught at had only 57 students. Her current school has about 130.
Also, unlike Pingbo, Nitiporn has had no formal English instruction. Despite that, she communicates quite well and improves daily.
"My English is still not very good, I think, but I am here to learn. I say everyone here is my teacher. I am the student -- the students, they are my teachers too," Nitiporn said.
Through picture postcards, the young woman shares what her country has to offer the world and hopes to spark curiosity in the Dallas students. Sometime next month Nitiporn will dance a traditional Thai dance. She'll also share with her students the "Thai water ceremony" and maybe some Thai treats.
Like other AFS teachers, she hopes to foster positive ties between her home country and the United States. She wants her students to know there are cultures other than their own, other ways of doing things.
"My parents are happy and proud that I came here. They wanted me to learn about a new culture and improve my English, and they wanted me to teach about Thailand. But they said, 'Don't stay too long,'" Nitiporn said.