Tuesday, October 17, 2006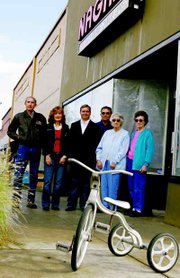 MONMOUTH -- Bodie Bemrose said when he started his real estate career a decade ago, he had always hoped to create a project in his native Monmouth.
"My family is still here, so I spend time here," said Bemrose, who represents property investors throughout the Willamette Valley. "I've always thought that I would like to come back and invest in my home town."
After years of daydreaming, he's now getting his chance. As a side-venture to his day job, Bemrose and his business partner, Gary R. Miller, purchased four historic buildings in the downtown area this summer.
They are readying two of them for new businesses near the corner of Monmouth Avenue and Main Street. Nagani Express and Main Street Coffee House are scheduled to open later this month.
Bemrose is also planning facade improvements for a small property at 111 S. Warren St., and will do major second-story renovations at the old Monmouth Improvement Company (MIC) building at 105 E. Main St.
"I don't think I'm doing anything too drastic with them," Bemrose said. "They're good functioning buildings, I'm just polishing them and trying to bring them back to their old glory."
Bemrose purchased the buildings at 169 and 173-183 Main St. from the children of the late Van Crider, who once operated a popular department and dry goods store from the site.
The other buildings were sold by the Monmouth Improvement Company, a corporation which has sold, purchased and developed properties in the area since the early 1900s. The Criders are still MIC majority shareholders today.
Bemrose originally talked to the family about one of their properties, and instead ended up buying all four.
"They had been approached many times in the past, but they were never ready to sell," Bemrose said. "I think the timing was right this time ... it was meant to be."
Bemrose has repainted 169 and 183 Main St., repaired the roofs, and plans to erect metal awnings to enhance the facades. Major mechanical work and interior renovations have been done by the tenants, Bemrose said.
"They're spending a lot of time and energy," Bemrose said. The caf', in particular, "was gutted. They've brought the ceiling height back up to 15 feet."
"I think that's a good sign for Monmouth," he continued, "that people are willing to come in and spend their dime like this."
The first floor of the old MIC building at 105 E. Main St., which houses a few businesses, won't be touched. The second story -- once the meeting hall for the local Odd Fellows organization -- is currently being renovated and converted into five office spaces.
And next spring, Bemrose said he will repaint, add brick work and storefront windows to the Carpet Hero building on Warren Street.
Bemrose's project will be one of the first in the city's newly-created urban renewal district. He said he has also applied for assistance through URD's facade improvement program, which gives grants to beautify downtown properties.
Though the downtown already has a host of cafes and Oriental food restaurants, Bemrose said the businesses will operate longer evening hours, which will appeal to Western Oregon University Students and add a nightlife element missing in Monmouth.
Nagani Express, 183 W. Main St., will specialize in Chinese cuisine and sushi. Main Street Coffee House, 169 W. Main St., will serve coffee, beer and wine and will feature live music.
"I don't think they'll take away from existing businesses," he said "I think they'll appeal to more of a night crowd."