Tuesday, October 17, 2006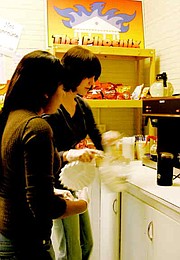 DALLAS -- Morrison has started its new year as an official part of the Dallas School District.
Jamie Richardson has moved up from head teacher to school principal, and the number of classrooms has dropped to four.
"Jamie, even being a new administrator, is well grounded and clear in his vision for the school," District Superintendent Christy Perry said.
Last year, the Dallas school board voted to revoke Morrison's charter and reincorporate the school into the district.
Now Morrison has 20 fewer students and the staff is moving back to a higher level of student accountability.
"Our goal is to just get back on our feet, re-establish our program and get it back to where there is a high level of accountability for students," Richardson said.
"We had a rough year last year and it's time to put that behind us and focus on identifying the students with the highest needs."
Richardson said that the best part of being back under district control is increased resources. He and his staff are able to work in partnership with Dallas High School counselors to find the students most in need and get them to Morrison.
"We keep a separate identity from Dallas (High), which is important because a lot of our students haven't had a good experience there," Richardson said.
"But, we are able to take advantage of mental health counselors and family health counselors, neither of which we had before. And with the student population we are working with, both are very important."
The Morrison staff is small, but the mission is clear. There biggest goal for the 2006-07 year is to improve reading level evaluations and reading scores. That means incorporating reading into every class period and subject.
As each class starts, the students will be given some kind of language arts activity to work on -- even in math and science class.
"We know that a student who can read well will do better in other subjects. It's the foundation of learning, and we have students here at so many different levels with so many different needs that it has become our goal to get them the focused help they need," Richardson said.
Of course, teachers can only help a student who shows up for class. So one of the guidelines set forth by the Morrison staff is that school isn't optional.
"We are trying to prepare them for the real world, and we tell them to treat this like a job -- they need to show up every day" Richardson said.
"For the most part, if this is a positive place to be and we make them feel connected to the community, I believe the attendance will take care of itself."
Morrison, more than Dallas High School, focuses on getting its students involved in the community. They do community service projects and raise money for charities. Richardson said it's not only a way to make the kids feel connected, but giving back to the community raises their self esteem and gives them a chance to interact with people of other generations in a positive way.
Mostly, Richardson wants his students to feel safe and accepted at his school. Which he feels is easier to do in a smaller setting.
"The staff is incredible," he said. "It really takes a special person to do this kind of work. You really have to love kids and love what you do, and this staff does -- and the kids ... feel loved here.
"That's hard to do in a big school."