Wednesday, September 6, 2006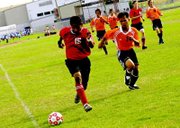 INDEPENDENCE -- Joe Penna perhaps has become the Michael Jordan of the area coaching scene.
Penna keeps retiring and then un-retiring. He first thought he was finished a few years back when gave up coaching after seven seasons with the Central boys team.
But a series of circumstances led to Penna's return to the coaching ranks in 2002 with the Central girls soccer team. He directed the Lady Panthers for three terms before handing the reins to current coach Tom Patton.
Penna managed to remain retired for one season this time around. Now he's back for a return engagement with the CHS boys team. He replaces Rich Abrams, who elected to accept a teaching position in Nicaragua.
"I'm back at it again," Penna said. "I thought I was retired, but I'm back again. I was asked to return. Although I'm not sure I was the best candidate for the position, I felt like I knew the assistants we could bring in as coaches to help continue the tradition of success the boys program has enjoyed of late."
Penna will have plenty of help on the sidelines with Mike Lynch, Jose Hernandez, Carey Yliniemi and Carlos Martinez serving as assistants.
The coaches will be working with a group that is young but talented. Central graduated 12 seniors and lost nine of 11 starters from last year's squad, which lost to La Salle in the semifinals of the state playoffs.
"We are a very young team," Penna said. "But what we lack in experience we will make up for in other ways. We will not rely so much on strength and speed as we will on finesse and control."
Most of Central's expected top players are in the back half of the field. Alfredo Najar and Jesus Rizo will anchor the defense with Israel Avila and Carlos Esquivel providing strong play in the midfield.
Penna's role will be in bit different in his third time around. In the past, he was leading programs that were still in the building stage. Now he's guiding a team that has been to the quarterfinals twice and the semifinals once in the past three seasons.
"I would expect us to be very competitive again at the league level," Penna said. "Certainly our first goal will be to return to the state tournament. Once there, anything can happen.
"Our hope and goal is to continue the tradition of success the program has enjoyed in the recent past. The key this year will be bringing along a group of inexperienced players to maintain the same level of play. We will start several freshmen and sophomores. Half of the team, if not more, will be underclassmen."