Tuesday, September 26, 2006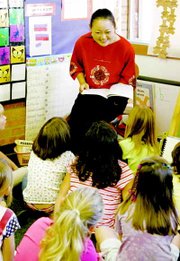 DALLAS -- Xu Pingbo, "Ping" for short, is the AFS International Exchange teacher at Whitworth Elementary School this year.
The American Field Service is a volunteer organization which began as an ambulance service in 1914. Today the full name of the group is AFS Intercultural Programs, and sponsoring exchange students and teachers is one of the programs it is best known for.
Last year Whitworth hosted a teacher from Thailand. This year, the school's guest educator is from Changzhou in Jiangsu Province, China.
Ping, 32, teaches high school English at Changzhou No. 2 High School. She has a 3-year-old daughter, Li Zixi.
Ping's husband, Li Feng Qiang, teaches physics at the same high school. They met while attending school together.
He and their daughter are currently living with Ping's parents in Changzhou.
Ping said that she misses her daughter, but is able to keep in close contact via web cam.
"My daughter is very brave and she is so young still that she doesn't really have any concept of how far away America is and how long 10 months is. She is doing well, not lonely, she has her father and my parents," Ping said.
Ping hopes that what she learns about American culture will help her better understand the English language, which will in turn help her be a better teacher.
"I tell my students that a language is not just words -- it is culture and history and how people live their lives," she said.
Ping also hopes to share a little bit of China with her Whitworth students. She has already created a bulletin board with pictures and information about the part of China she lives in. She has also given presentations about how schools in her country differ from what she has seen of schools here.
"In China the classes are much more structured, more formal. They have to be -- with 50 students per class, the teacher has to have total control. Here, the classes are much more free," she said. "Mrs. Wright uses a lot of creativity to make learning as much fun as she can."
"In China there is a lot more pressure placed on students," Ping added.
Ping wants to tour the middle school and high school while she is here and possibly Western Oregon University as well. She said she hopes to take home some Western teaching techniques and incorporate them into her English classes.
Before she leaves Whitworth in June, Ping plans to give Dallas students lessons in the Chinese language, alphabet, and characters; poetry; idioms; reading and handwriting. She also wants to tel them about Chinese geography, history, music, festivals, paper-cutting, origami, lucky knots, architecture, clothing, cooking, money, movies, and the Chinese horoscope. It's a tall order, she knows.
Daily, Ping works on Chinese body exercises, eye exercises and Taiji with the students in Joan Wright's first grade class. All those exercises are widely practiced by students of all ages in Ping's country.
The AFS cultural exchange program is a nongovernmental, nonprofit organization. According to its web site its goal is to foster understanding and bring peace by eradicating intolerance "one exchange at a time." For more information: www.afs.org.