Tuesday, September 26, 2006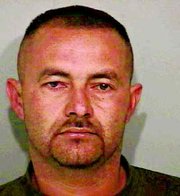 INDEPENDENCE -- Attempted murder suspect Andres Aguilar-Gonzalez, 30, of Seattle, is currently held at the Polk County jail on $750,000 bail.
Aguilar-Gonzalez is accused of attempting to shoot Dionicio Carrion-Cervantes, of Independence on Thursday, Sept. 14.
Police said Aguilar-Gonzalez drove to his ex-girlfriend's house on D Street in Independence and saw Carrion-Cervantes step outside. Aguilar-Gonzalez then opened fire from the window of his red, 1991 Toyota Celica, and then drove off.
Aguilar-Gonzalez fled the area, and Independence police, with the help of other Oregon agencies, were unable to find him in the state.
When informant networking also failed, Independence Detective Robert Barlow and School Resource Officer Juventino Banuelos took a two-day road trip to the Seattle area to track Aguilar-Gonzalez down.
The officers started in Des Moines, Wash., where they connected with local authorities. Within five hours they had found Aguilar-Gonzalez, taking him into custody just after he had apparently broken into a private residence.
Aguilar-Gonzalez waived his rights and agreed to be extradited to Oregon.
"If you fail to apprehend a transient suspect in a timely manner they often escape justice altogether," Sgt. Robert Mason said. "I am proud of the hard work our officers produced, and closing this case with an arrest is another example of what dedication and hard work accomplishes."
--
CORRECTION
The Sept. 20 edition of the Itemizer Observer ran a photo of Aguilar-Gonzalez captioned with the wrong name -- that of Carrion-Cervantes. Also, in one place the story misidentified the suspect as Aguilar-Cervantes. The newspaper regrets the errors.