Tuesday, December 4, 2007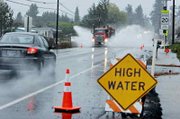 POLK COUNTY - The strong pre-winter storms which walloped Northwestern Oregon over several days left their mark on Polk County.
In Dallas, high water closed several city streets and caused flood damage to homes along Monmouth Cutoff and Godsey roads, and other neighborhoods on Monday.
Rickreall Creek was within half a foot on Monday morning of reaching the bottom of the recently-opened Levens Street Bridge - which was built 60 inches above flood level.
"We're 6 inches from breaching the 100-year-flood plain stage," said Dallas Mayor Jim Fairchild. "I've been here since 1966 and this is the highest I've ever seen it."
The first of two storms that raked the state touched down on Sunday. They both originated as tropical cyclones, the Pacific's version of a hurricane, according to the National Weather Service.
A total of 2.44 inches of rain fell at the Salem Airport in the first three days of December, including 1.24 inches on Monday, the weather service said.
The height of the problems in Dallas occurred Monday, as officials were forced to close eight roads because of flooding.
Water flowed over much of Monmouth Cutoff Road as it enters the city limits. Yards and driveways off the route resembled swimming pools as property owners stacked sandbags in front of homes. Water stood about 2 feet deep near the entrance of a cul-de-sac on Joseph Lane.
Flooding also was reported in neighborhoods on Northwest Orchard and Jasper streets and Reed Lane.
City officials set up sandbag stations at Lyle Elementary School and at the city shops. At Dallas High School, student volunteers aided citizens filling sandbags.
The Dallas Fire Department fielded more than 100 calls Monday and used 8,000 sandbags around the city, Chief Bill Hahn said.