Wednesday, February 7, 2007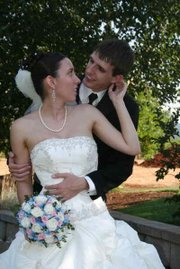 Stewart-Smith
Amber Dawn Stewart of Independence and Daniel Patrick Smith of Corvallis were married Sept. 1, 2006 at BeckenRidge Vineyard in Dallas.
The bride is the daughter of Donald and Carol Stewart of Independence. Her fiance is the son of Gerald and Susan Smith of Corvallis.
Wilson Parrish officiated the ceremony.
Maid of honor was Lizzi Stewart and bridesmaids were Whitney Smith, Corinne Corey and Jennifer Perry.
Flower girl was Monique Caldwell and ring bearer was Jacob Emmerich.
Best man was Josh Sylvester and groomsmen were Kai Yamashita, Phillip Haynes and Nic Stevens.
Amber, a 2005 graduate of Santiam Christian High School in Corvallis, attended Linn-Benton Community College and Western Oregon University. She is an instructional assistant for Central School District with future plans to become a high school history teacher.
Daniel, a 2001 graduate of Corvallis High School and a 2005 graduate of Oregon State University with bachelor of science degrees in computer science and bioresource research, is a research assistant at OSU's Giovannoni Laboratory in Corvallis.
The newlyweds honeymooned in British Columbia, Canada, and make their home in Albany.