Tuesday, February 13, 2007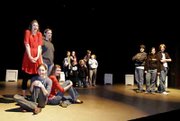 DALLAS -- For the first time in years the Dallas High School Thespian troupe attended a regional acting competition and walked away with several students qualified for the state championships.
Thespian club president Erin Pike is a "solo acting experienced" state qualifier.
Larra Snyder also won a slot in the solo acting experienced division. And Lance Baker and Sarah Wright will be competing as a duo in the dramatic experienced division.
Susan Davis was a regional finalist in solo acting experienced.
"What this means in terms of accomplishment - well, for example, there were only 15 slots in the solo acting category ... we won two of them," theater teacher Blair Cromwell said.
"I am just so impressed with these students. Mostly because they did this themselves. They wanted to go and made it happen. There wasn't someone standing over them saying, `This is something we should do' - it was their project."
In all, 15 Dallas High students competed at the regional event.
Cromwell expressed particular pride in Pike, a senior.
"In case you hadn't noticed, she is a remarkable young woman," Cromwell said.
"This was her baby. It was something she wanted to do her senior year, and she organized it all."
Pike has been active in the DHS theater department since her freshman year. Last summer she attended a prestigious summer acting workshop at Ashland's Oregon Shakespearean Festival, and this past weekend she was in Los Angeles auditioning for theater programs that will be conducted in several states.
Last summer's program, Pike said, "Really reinforced and revitalized my enthusiasm for theater ... I came away knowing that this is something that I want to go on and study in college. This is something I want to do for the rest of my life."
The state competitions will be held in April as part of the state theater conference. This year it is hosted by the Historic Elsinore Theater and South Salem High School.
More than 600 Oregon students are expected to attend the three-day event.
Winners at the state event will automatically qualify for the national conference to be held in New York next September.
The theater conference is open to any registered thespian in the state and showcases some of the top productions produced by high schools during the past year.
For more information: www.oregonthespians.org or www.edta.org.