Tuesday, February 20, 2007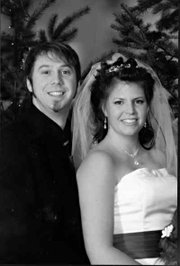 Starkey-McMullin
Katie Elizabeth Starkey of Monmouth and Michael John McMullin of Dallas were married Dec. 16, 2006 at Oasis of Hope Church in Hermiston.
The bride is the daughter of Phil and Debbie Starkey of Hermiston. The groom is the son of Jerry and Jo McMullin of Dallas.
Maid of honor was Tamara Gonzalez and bridesmaids were Cydney Morgan, Ashley Smith and Katie Starkey.
Flower girl was Emma Kaer.
Best man was Travis McMullin and groomsmen were Brian McMullin, Matt Starkey, Jerin Shumway and Dan Nicol.
Ushers were Travis McMullin and Brian McMullin.
Katie, a 2002 graduate of Hermiston High School, is a student at Western Oregon University and janitorial staff for Valley Life Center in Dallas.
Michael, a 2000 graduate of Dallas High School, attends Chemeketa Community College and is a detailer for McMullin Chevrolet in Dallas.
The newlyweds honeymooned in Victoria, British Columbia, Canada, and make their home in Monmouth.