Tuesday, January 30, 2007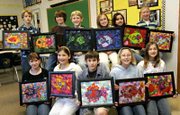 PHOTO CAPTION:
Kids in Michele Stein's fourth fifth and sixth grade classes worked with local quilter Terrie Kygar to create these fabric fish.
Back row, left to right: Donny Russell, Andrew White, Nate Kazemier, Isabella Nelson, Reagan Davis, Rachel Suderman.
Front row, left to right: Missy Vance, Emily Westendorf, Mychal Westendorf, Breanna Welty, Madeleine Nelson.
Not pictured: Riley Beggs, Anya Annear, and Kaiah Annear.
DALLAS -- The photography of Kyle Lang and fabric art created by local elementary students will be on display during the First Friday Promenade from 6 p.m. to 9 p.m. on Feb. 2 at the PEARL Community Art Center in downtown Dallas.
Students from Faith Christian School created fish themed fabric mosaics with quilt teacher Terrie Kygar.
Kygar stepped in this year as the guest art teacher at Faith, and she thought incorporating fabric art into her first lesson would be a fun change.
"I brought in containers and containers of fabric -- and the kids just went to town," Kygar said.
"The end result was better than anything I could have expected. I called Penny (Cox) at the PEARL and told her about them. We both thought it would be fun to have them framed and displayed during First Friday."
Some of the kids used Kygar's templates to create their fish; others, like Reagan Davis, designed their own.
"It was a lot of fun," Davis said shyly.
When the kids couldn't finish their projects during the allotted class time, Kygar opened her home to them a few at a time. Eventually each child finished a mosaic, and Kygar had them framed for display.
"We just think this school is awesome," Patty Vance said.
"This was just a great project."