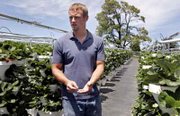 POLK COUNTY -- No doubt the sight on Aaron Kennel's farm off Airlie Road has left many a passerby puzzled.
Occupying a picturesque quarter-acre, amidst a sea of oats and rye grass, are 14 rows of revolving shoulder-high cylinders.
Seven-hundred and fifty in all, they're comprised of clover-shaped racks, six per stack. Roughly 15,000 strawberry plants - particularly green and leafy specimens - grow from the racks, some bearing fruit almost the size of apricots.
"We've had people stop and pull in just to ask what this is," said Sarah Kennel, Aaron's wife. "Even our neighbors couldn't stand it - they had to ask what we were doing."
What the Kennels have done with Airlie Hills Family Farm is create what is believed to be the only hydroponic strawberry operation in the state.
Visitors to the U-pick patch can choose from Diamante, Albion and other varieties of everbearing, day-neutral strawberries that produce until fall.
Aaron Kennel works alongside his brother and father growing grass seed in Polk County, something his family has done for several generations.
The strawberries, which were planted in March, represent a sort of side venture. Kennel said a limited number of acres for family members to farm, and a dwindling supply of available agricultural land in the area to rent or buy, prompted him to find ways to diversify.
A hydroponic crop was one consideration. Two years ago, he started researching the method and companies that sell the equipment. He even visited a hydroponic farm in Florida.
"The system works well for a lot of things, and particularly well for strawberries," said Kennel, who hadn't grown the fruit commercially before.
According to Bernadine Strik, Extension Office berry crop professor at Oregon State University, 2,100 acres in the state currently are dedicated to strawberries - down from 6,000 in 2001 - and less than 150 acres are used for fresh market berries.
Which makes what Kennel is doing all the more unique.
"I don't know of any other (hydroponic strawberry) grower in Oregon," Strik said. "As far as I know, this is the first."
Hydroponics is a method of growing plants without soil. Kennel's strawberries grow from beds of perlite and vermiculite.
The minerals are a rooting media only; the actual nourishment is a mixture of nutrients and water pumped through an automated system. The solution flows through plumbing beneath the patch, and on to hoses that drip through the stacks to each plant three times a day.
An advantage of the technique is that it doesn't require as much land because plant roots don't have to spread in search of food and water. This lets the plant use all of its energy growing and yielding large amounts of produce instead of searching for food and battling pests.
Because the stacks sit off the ground, plants have better air flow and are less susceptible to mold, soil-borne disease and insects, Kennel said.
"One of the interesting things about this farm is that it is vertically oriented," Strik said. "Most hydronponic strawberries are grown on chest-high, flat trays.
"The Kennels need to be complimented on being inovative and forward-thinking."
Growing 15,000 strawberry plants in a conventional manner would require about two acres of land and 20,000 gallons of water on hot days, Kennel said. He uses 500 gallons a day on his quarter-acre field.
The operation requires a minimal workforce - Kennel's wife and two children manage customers and prune plants - but also a high level of care.
The fruit is cut from vines with scissors to avoid uprooting plants. Strawberry plants are vulnerable to disease, and because the farm has such high-density planting, customers are required to sanitize their hands before picking.
The layout of the patch makes it ideal as a U-pick. The stacks make it easy for individuals to get at berries without having to bend over or squat. The ground is level and covered with nursery cloth to allow wheelchair and handicap access.
"We've had families bring out children in wheelchairs who have never been in a strawberry field," Sarah Kennel said. "That's really nice to see."
Strawberries aren't the only hydroponic produce. The Kennels have dedicated a few stacks to types of lettuce and herbs.
Traditionally-grown crops, such as sweet corn, blueberries, green beans and honey made from meadowfoam blossoms will be available later this summer. And there will be a pumpkin patch in the fall.
Aaron Kennel said he may dedicate more acres to the hydroponic crop next year if it proves successful. Sarah said customers have already delighted in the fact that they don't have to horde berries because the end of the traditional season is nigh.
"People have shown up here wanting to take home 18 pounds of berries for jamming," she said. "We tell them they'll still be here this summer and that they can spend all that energy on the kids."
Airlie Hills Family Farm is located at 10775 Airlie Road, about 1 mile west of Highway 99W. Hours are 9 a.m. to 6 p.m. Tuesdays through Saturdays. Operating hours may expand later this summer. For more information: 503-871-2072 or visit www.airliehillsfarm.com.