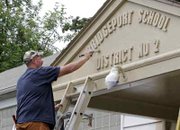 "A lot of people think we're a small private school that charges tuition. We're actually a public school and there's no tuition.
"We think we offer a very special learning environment for kids as a small school with small classes," Luckiamute Valley Charter School Executive Director Dan Austin comments.
Pedee Charter School began when the Dallas district announced closure of its Pedee elementary school in 2001. That fall the charter school opened with grades 4-6. Today it is a kindergarten through eighth grade program housed at both the Pedee and Bridgeport school sites.
The Bridgeport school was closed by the Dallas district in June 2003. Luckiamute Valley Charter succeeded Pedee Charter School with an expanded and enlarged base of operations later in 2003.
"I'm especially happy with the changes we're making this fall," the executive director continued. "We have two of the more highly regarded reading and math programs in the country.
"The McGraw-Hill reading series will be used for kindergarten through fifth grade and the Excel Math program is for K-6. Students will be assessed four times a year in both areas of learning. We don't let anyone fall through the cracks - tests are given, scores are recorded and the results will be awesome," according to Austin.
During the current year a kindergarten program called "Zoo-phonics" was introduced to kindergartners at the Bridgeport campus. "It's a wonderful way for them to learn the alphabet using a different animal for each letter - they enjoy it and really learn," Austin says.
He adds that "A mother volunteered to freehand draw the animals and letters in random order on drawers around the room. The kids love it and it reinforces their learning."
"Our goal is to have all the children learning to read by the time they're through grade 3. From grade 4 on they'll be reading to learn."
A further step on the reading to learn curve is implementation of literature blocks. The lit blocks find students broken into smaller groups based on test results and teacher review. The idea grew from a successful program the staff observed at Desert View Elementary in the Hermiston district.
Luckiamute Valley's storied emphasis on arts and science isn't lying dormant in the coming year. It is one of a few schools in the state selected to participate in the Tsunami Shelter Challenge through Oregon State University.
Seventh and eighth grade students and teacher Randy Fellows will be working with the OSU tsunami wave basin to develop a shelter that can withstand a tsunami wave. It will be a competitive event with the other participating schools.
Austin notes, "We'd like to see a few more seventh and eighth graders take advantage of what we're offering." Parents can call the Pedee school at 503-838-1933 for more information.
He says "I think the solid approach to a basic curriculum coupled with the creativity we see in our teaching staff, board members and volunteers gives our school a unique learning environment."
"As a charter school we're obligated to meet the same standards as other public schools as far as our curriculum and testing are concerned. We've sought to enhance those areas in the past year - it means more emphasis on preparing lesson plans. It ties in with our staff development program and the professional learning model."
Staff development includes a one-hour session at the end of the school day on Mondays with all staff participating. Luckiamute Valley, like its parent district - Dallas - is ending the students' school day an hour earlier on Monday.
Dallas students can board a bus at the Academy building in downtown Dallas at 7:15 a.m. each school day. It stops at Bridgeport and then proceeds to Pedee for the older students.
Students attending from outside the Dallas district must provide their own transportation.
--
Money in the bank
LVCS is expecting a year-end balance of $90,000 to $95,000 in its accounts, according to Dan Austin, the school's executive director.
In making his monthly report to the Dallas School District board of directors, Austin was pleased to note that year-end balance would help start the 2007-08 school year.
He also noted that three teachers have left the Luckiamute staff at the close of the year.
Those positions have since been filled with:
Leslee Ellis teaching first and second graders at the Bridgeport campus.
Chelsea Fuller, teaching fifth and sixth graders.
Randy Fellows, teaching seventh and eighth grades at the Pedee campus.
Fuller and Fellows did their student teaching in the Dallas district at LaCreole Middle School. Philips also spent time at Lyle Elementary.
Another challenge facing the Luckiamute board and staff will be filling the classrooms as enrollment figures at this time show room for 15 more students, according to Austin.
Facility upgrades continue on both campuses with volunteers painting the Bridgeport building a light brown color with blue trim.
At Pedee, a student-built gazebo is nearing completion. Concrete work was done more than a year ago and a great deal of welding has been done this year. "It's about two-thirds completed," Austin said.