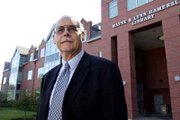 MONMOUTH -- For Gary Jensen, libraries have always been more than just places to store books.
"They're cultural institutions," said Jensen, dean of library and media services at Western Oregon University. "You can find materials and knowledge that wouldn't otherwise be available to you, especially if you're in a small community.
"And I love that aspect of life-long learning," he continued. "People who want to continue to learn without a formal education can do so."
Jensen has held those sentiments since coming to Western in 1987. He was a key figure in getting Hamersly Library built, and helped found a consortium that connects resources of college libraries throughout the Pacific Northwest.
The past academic year was Jensen's last at Western. He plans to step down from his position in September.
"It will be difficult; I've been here a long time and have invested a lot of energy into this place," said Jensen, 62.
But the opportunity to travel was one factor in leaving, Jensen said. His wife is from Greece, and the couple plans to split their time between their West Salem home and the Mediterranean. He is also working on a detailed visual history of the island of Corfu.
"I will miss Western," he said. "I've had a great staff ... and working in higher education and in the library has been very stimulating."
Jensen's affinity for libraries originated in his hometown of Warrenton. He spent much of his time poring over Charles Dickens and Jane Austen at the community's small library, housed in a wing of City Hall.
He earned a library science degree from the University of Oregon, before heading off to George Washington University in Washington, D.C. in the 1970s to earn a doctorate.
He found a job at the Library of Congress, and spent 13 years there doing everything from managing the main reading room to legislative research for lawmakers on Capitol Hill.
"That was exciting for me - the size and richness of the collection, and that fact that it was regularly serving students, scholars and researchers from all over the world," he said.
Jensen was hired as manager of library operations at Western in 1987 (he was later given tenure as a professor, and received the title of dean last year).
An early issue was relocating the college's old library, which sat in what is now an administrative building off Jackson Street and Monmouth Avenue.
"The facility was crowded," said Jerrie Lee Parpart, a library instructional support specialist who has worked with Jensen for 17 years. "We hardly had any study space ... and sound really traveled through the building."
National accreditation reviews in 1987 and a decade later revealed a need for a new library. WOU received a $1.5 million gift from alumni Wayne and Lynn Hamersly - the building is named after the couple - along with state funds and private donations during the late 1990s to build the 74,000-square-foot structure.
"It's still the most ambitious capital project Western has ever undertaken," Jensen said.
Jensen was heavily involved in the design and construction of the building, and pressed for large display areas that regularly house art and historic exhibits.
"For Gary, it wasn't just providing information in the classic book form," said John McArdle, former director of development at Western. "He enjoyed the concept of teaching in between the stacks."
Besides the library, Jensen said his other favorite achievement was helping form the state's Orbis Library Consortium in the mid-1990s, and later, the Orbis Cascade Alliance.
The latter allows people to request materials from any of the 33 public and private higher education institutions in Oregon and Washington using a unified database system.
"We would never have the budget to buy the millions of materials that are available this way," said Jensen, who was chair of the Orbis Library Directors Council in 1995-96. "If you need something, you can go to a database and get it."
Jensen's contributions at Western don't end with the library. He is a member of the Polk County Cultural Coalition. He also is a lifelong musician, and plays bassoon for Western's wind ensemble and orchestra.