Wednesday, March 28, 2007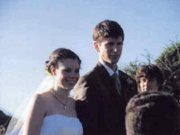 Papineau-Bisbee
Lucia Leanne Papineau of Park City, Utah, and Andrew James Bisbee of Park City were married Sept. 23, 2006 on the beach in Yachats, followed with a reception at Cape Perpetua.
Pastor Joe Ellis of Park City, officiated.
The bride is the daughter of CB and Nancy Stirling and Peter Papineau Sr., all of Park City.
The groom is the son of Barbara Bork Bisbee of Tigard, formerly of Monmouth, and the late Robert Bisbee.
He is grandson of Marylee Bork of Hood River, formerly of Monmouth.
Bridesmaids were Sarah Bisbee and Laura Bisbee.
Ring bearer was Peter Papineau Jr.
Best man was Forrest Boleyn and groomsmen were Brian Borger and Mark Avery.
Ushers were Jonathan Bisbee and Conor Papineau.
Lucia, a 2001 graduate of Park City High School and a 2006 graduate of University of Utah with degrees in Spanish and International Studies, is manager of Java Cow Coffee in Park City.
Andrew, a 2001 graduate of Tigard High School, is an undergraduate geology major at the University of Utah and works for Gart Sports in Park City.
The newlyweds honeymooned at the Oregon Coast, traveled to New Orleans for employment and spent five months in the Bahamas.
They make their home in Salt Lake City.